Patrick Higgins Bachanalia LP 180 Gram Vinyl NYC-MMXV Telegraph Harp Records TH 009 2015 QRP USA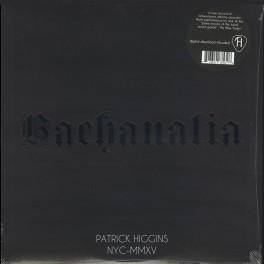 Maximize

Display all pictures
Artist:
Patrick Higgins
Title:
Bachanalia
Catalog Number:
TH 009
Label:
Telegraph Harp
Barcode:
703610875326
Original release year:
2015
Number of discs:
1
Revolutions per minute:
33⅓ rpm
Disc size:
12"
Vinyl Weight Grade:
180gr
Extras:
Download Code
Total Item Weight:
295gr
For Market Release in:
USA
Added to catalog on:
August 15, 2016
Note:
Limited Eligibility for Discounts
Vinyl Gourmet Club:
No
People have been reinventing Bach for nearly 300 years but there has never been anything quite like Patrick Higgins' Bachanalia. Equal parts gorgeous and severe, these highly original classical guitar arrangements of JS Bach prove the endless possibilities contained within the master's pen. An audiophile favorite of Michael Fremer and Steve Guttenberg, this is an amazing recording.
Rated 10/11 Music and 10/11 Sound by Michael Fremer (Analog Planet)
180 Gram Vinyl
Pressed at QRP in the USA
Download Code (MP3 & Flac)
"The record was very carefully recorded in three different environments: two different rooms at St Cecilia's Church in Brooklyn and the main hall at Future-Past Studios in Hudson NY. Each of these three spaces has quite a distinct frequency response and reverberation time, so I was particularly interested in capturing what was unique in each room from both a performance and an audio standpoint. Deep room mics were placed carefully in particular depths in each room, and in most cases only one or two close mics were used. The room or "depth" mics were used to create the ambient bed that was then re-processed, stretched, distorted, delayed, sampled, and so on."
"The microphones used for the recording included the Neumann U47 tube mic, RCA KU3A 100001 ribbon, Neumann KM56, Sennheiser "Labor" Mic, Neumann M50 and Josephson stereo pair C42s. The recordings in Brooklyn with made with portable recording rigs, while at Future-Past the recording was done on our original 24-channel Helios console and Ampex MM1000 tape machine."
"The record is a hybrid in the truest sense, live un-edited performance to analog recording, digital processing to digital mixing, analog mastering and beautifully lathed to 180 gram vinyl."
People have been reinventing Bach for nearly 300 years but there has never been anything quite like Patrick Higgins' Bachanalia. Equal parts gorgeous and severe, these highly original arrangements of JS Bach prove the endless possibilities contained within the master's pen. Bachanalia emerges from a dynamic relationship among three main elements: Higgins' own virtuosic classical guitar playing, stereo electronic processing, and the recording spaces themselves. Truly site-specific, it makes unique use of the extreme and special acoustics of St. Cecilia's Church in Brooklyn and Future-Past Studios, an upstate New York recording complex housed in a historic Lutheran church. While Bach's compositions will be familiar to almost everyone, Higgins gives us a mesmerizing glimpse into the future.
Described by The New Yorker as one of the "prime movers of the local avant-garde," and an "exacting avant-classical guitarist" by Time Out NY, Patrick Higgins is a New York-based composer/performer of experimental music. Higgins has composed works for some of the nation's leading ensembles, from chamber orchestra works, percussion cycles, and string quartets to smaller ensembles and soloists. He has scored music for television, museum exhibitions, and films both short-form and feature-length. Higgins plays guitar and composes in Zs, hailed by The New York Times as "one of the strongest avant-garde bands in New York." As a producer and studio owner at Future-Past, Higgins has helped produce records for The National, Josephine Foster, John Zorn and Dither Quartet, Mantra Percussion, Zs, Eric Wubbels and Josh Modney, Ensemble Contemporaneous, Vicky Chow, and many more.
For Bachanalia, Higgins and co-engineer Ben Greenberg worked with a collection of rare vintage Neumann, RCA, and Sennheiser microphones to carefully capture a spatialized natural room reverb. This provided a palate to warp, manipulate, and re-process the sound in precise counterpoint to Bach's compositions. The end result weaves together live performance and studio composition. The musical arc reaches from light to dark, both in the emotional timbre of the compositions and in the density of the electronic elements. In the final three tracks ("Minuet," "Chaconne," "Aria da Capo"), both the experimentation and emotional intensity are pushed to new heights. This is highlighted in the "Chaconne," Bach's infamous death mass written after the passing of his first wife, presented here as a 14 minute epic recorded in two continuous takes. While any piece on Bachanalia can stand alone, the album articulates Patrick Higgins' singular narrative vision from start to finish.
"A description of this record in Twitter-like brevity: "Sandy Bull meets Michael Hedges in a church." Of course that short-changes everyone involved, especially the only living artist among the three: guitarist Patrick Higgins. Mr. Higgins' Bach is crisply and often muscularly rendered, technically dazzling and exquisitely and ingeniously recorded.
As best as I can tell, Higgins sticks to Bach's musical script in his transcriptions for guitar. The innovations are in how he's chosen to record and process the performances. The varied results are mesmerizing and sonically spectacular. While some of the tracks are bathed in heavy reverb and/or "electronica", the cleanliness of the attack is at all times fully expressed, which is necessary to sustain the rhythmic strength and musical flow.
The result is a solo guitar recording augmented with an involving and grand environmental complexity. While the concept was not "the absolute sound" simplicity of a guitarist performing in a defined acoustical space, the production does produce a unique spatial context for each piece of music (most of which will be familiar to even non-classical music listeners), some grand and enormous, some more intimate, but all produced and mixed with obvious great care to produce the desired, sometimes hallucinogenic result.
The recording produces enormous acoustics spaces of great height, width and especially depth. You'll sit transfixed until the sides end, aided by an outstanding dead quiet QRP pressing. Includes a download card good for either an MP3 or FLAC file version. This is in every way, a high quality, meticulously played and produced production well-worthy of your attention." - Michael Fremer, Analog Planet
Track Listing:


01. Aria - Goldberg Variations BWV 988
02. Prelude - Violin Partita No.3 BWV 1006
03. Bouree - Lute Suite No.1 BWV 996
04. Gavotte - Cello Suite No.6 BWV 1012
05. Chorale - Cantata 147 BWV 147
06. Minuet 1 And 2 - Cello Suite No.1 BWV 1007
07. Chaconne - Violin Partita No.2 BWV 1004
08. Aria Da Capo - Goldberg Variations BWV 988
Click here to listen to samples on YouTube.com ♫