Paul Simon Graceland LP 180 Gram Vinyl Analog 25th Anniversary Edition Sterling Sound RTI 2012 USA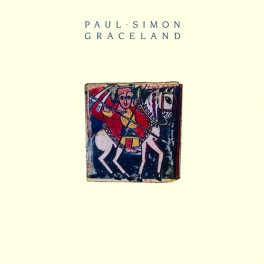 Maximize

Display all pictures
Artist:
Paul Simon
Title:
Graceland 25th Anniversary
Catalog Number:
88691914721
Label:
Warner
Reissued by:
Legacy
Barcode:
886919147216
Edition:
25th Anniversary Edition
Original release year:
1986
Reissue year:
2012
Number of discs:
1
Revolutions per minute:
33⅓ rpm
Disc size:
12"
Vinyl Weight Grade:
180gr
Extras:
Poster + MP3 Download
Total Item Weight:
355gr
Pressing country:
USA
For Market Release in:
USA
Added to catalog on:
May 24, 2014
Vinyl Gourmet Audiophile TOP 100:
Yes
Note:
Never eligible for any further discounts
Vinyl Gourmet Club:
No
Graceland not only put South African music on the radar, it forever changed the way we listen to pop and rock music, its influences are still shaping the music made today 25 years after the original release. Audiophile mastering from the Original Analog Master Tapes by Ryan k. Smith at Sterling Sound assisted by original engineer Greg Calbi and pressed on 180 gram HQ vinyl at RTI.
Graceland never sounded better than this, the increased resolution and low frequency control over the original mastering brings new life to this timeless rock/pop and World Music fusion masterpiece. A well deserved celebration and a true Audiophile gift for all music lovers.
Album of the Year Grammy Awards 1987
Song of the Year Grammy Awards 1988
14 Million Plus units sold!
Michael Fremer Rated 10/10 Music and 10/10 Sound (Analog Planet)

Rolling Stone 500 Greatest Albums of All Time - Rated 71/500!

Featured in Vinyl Gourmet Audiophile TOP 100

Includes Collectible Poster and Limited Time MP3 Download of Album + 3 Bonus Songs


25th Anniversary Edition of the Grammy Awards winning Album
Pressed at RTI on 180 Gram HQ Vinyl
Mastered from the Original Analog Master Tapes
Mastered at Sterling Sound by Ryan K. Smith assisted by Greg Calbi
Collectible large and high quality color poster
Limited Time MP3 Download of the Album + 3 Bonus Songs
"With Graceland, Paul Simon hit on the idea of combining his always perceptive songwriting with the little-heard mbaqanga music of South Africa, creating a fascinating hybrid that re-enchanted his old audience and earned him a new one. It is true that the South African angle (including its controversial aspect during the apartheid days) was a powerful marketing tool and that the catchy music succeeded in presenting listeners with that magical combination: something they'd never heard before that nevertheless sounded familiar. As eclectic as any record Simon had made, it also delved into zydeco and conjunto-flavored rock & roll while marking a surprising new lyrical approach (presaged on some songs on Hearts and Bones); for the most part, Simon abandoned a linear, narrative approach to his words, instead drawing highly poetic ("Diamonds on the Soles of Her Shoes"), abstract ("The Boy in the Bubble"), and satiric ("I Know What I Know") portraits of modern life, often charged by striking images and turns of phrase torn from the headlines or overheard in contemporary speech. An enormously successful record, Graceland became the standard against which subsequent musical experiments by major artists were measured." - William Ruhlmann, All Music

Track Listing:

SIDE A:
1. The Boy in the Bubble
2. Graceland
3. I Know What I Know
4. Gumboots
5. Diamonds On The Soles Of Her Shoes

SIDE B:
1. You Can Call Me Al
2. Under African Skies
3. Homeless
4. Crazy Love, Vol. II
5. That Was Your Mother
6. All Around The World or The Myth of Fingerprints
Click here to listen to samples on YouTube.com ♫