Fanfare Ciocarlia 20 Years 2LP 180 Gram Vinyl Asphalt Tango Records Gatefold Optimal Germany 2016 EU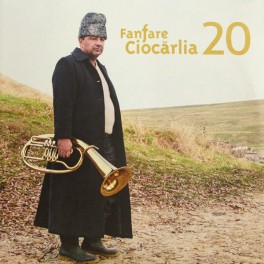 Maximize

Display all pictures
20 is a double album set released only on Vinyl that gathers for the very first time Fanfare Ciocarlia's seminal recordings. This collection ranges from the band's debut album Radio Pasçani onwards, gathering recordings that have broken Balkan brass through to a huge international audience. Pressed on 180g vinyl at Optimal Media in Germany, including a 20-page photo booklet!
Exclusive release only on Vinyl format!
2LP 180 Gram Vinyl
Pressed at Optimal Media in Germany
Gatefold Cover
Includes 20 Page Photo Booklet
Includes Download Code
Fanfare Ciocarlia are a 24-legged brass beast whose eastern funk groove has torn up halls and festivals across the planet. Their energy and ingenuity having won them fans from Melbourne to Memphis, Tokyo to Toulouse. Having learnt their craft at the feet of their fathers and grandfathers Fanfare's members proudly approach every concert as a challenge to both entertain audiences and keep the true spirit of Gypsy music alive. Fanfare Ciocarlia went on to conquer the USA, Europe, Asia and Australia. The Gypsies may only have spoken their local Romany dialect but their music spoke an international language and audiences responded to their fierce Balkan funk by turning concerts into parties. What Fanfare Ciocarlia played was something new. The Times of London described it as "a heavy, heavy monster sound" and Fanfare's recordings have taken their eerie Balkan groove into dance clubs across the planet.
Track Listing:
Side A - Roots
01 Sirba Moldoveneasca
02 Lume lume
03 Moldavian mood
04 Hora de la Bucuresti
05 Ciocarlia
06 Sirba de la Iasi
07 Balada Lui Ioan

Side B - Orient
08 Kan MArau La (ft. Dan Armeanca)
09 Casablanca
10 Besh o drom
11 Manea Tiganilor
12 Disko Dzumbus (ft. Boban & Marko Markovic Orchestra)
13 Foxtrot

Side C - Jams
01 James Bond theme
02 I put a spell on you (ft. Iulian Canaf)
03 Caravan
04 Moliendo cafe
05 Summertime
06 I'm your gummy bear
07 Rumba Tiganeasca

Side D - Amigos
08 Cuando tu volveras (ft. Kaloomé)
09 Duj duj (ft. Mitsou & Florentina Sandu)
10 Ma maren ma (ft. Saban Bajramovic)
11 Nekelavishe (ft. Esma Redzepova)
12 Devil's tale (ft. Adrian Raso)
13 Pancho says (ft. Socalled & Kottarashky)