Ornette Coleman Free Jazz 2LP 45rpm 180 Gram Vinyl Bernie Grundman Pallas ORG Music USA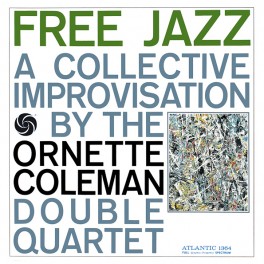 Maximize

Display all pictures
Artist:
Ornette Coleman
Title:
Free Jazz a Collective Improvisation
Catalog Number:
ORGM-1083
Label:
Atlantic
Reissued by:
ORG Music
Barcode:
711574707515
Original release year:
1961
Reissue year:
2013
Number of discs:
2
Revolutions per minute:
45 rpm
Disc size:
12"
Vinyl Weight Grade:
180gr
Total Item Weight:
678gr
Pressing country:
Germany
For Market Release in:
USA
Added to catalog on:
May 23, 2014
Collection:
Atlantic Jazz Series
Vinyl Gourmet Audiophile TOP 100:
Yes
Note:
Never eligible for any further discounts
Vinyl Gourmet Club:
Yes
Impressive creative and technical expertise from this double quartet session, two simultaneous rhythm sections one for each stereo channel, featuring names like Scott LaFaro, Eric Dolphy, Freddie Hubbard and Charlie Haden! Mind blowing sound and audiophile spectacular remastered by Bernie Grundman from Original Master Tapes and pressed at Pallas Germany on 180gr audiophile vinyl. Total Freedom!
Featured in Vinyl Gourmet Audiophile TOP 100
"Jazz's first extended, continuous free improvisation LP... A staggering achievement." - All Music, Rated 5/5 Stars


45rpm 180 grams Audiophile Grade Vinyl
Double LP pressed at Pallas Germany
Mastered from Original Analog tapes
Mastered by Bernie Grundman
Gatefold Cover
Starting with the premise that Free Jazz, after the briefest of direction, devolves into an eight-part improvisation with all parts equally independent, observations may be noted. While nature, when left to her own devices, typically migrates from a state of order to greater disorder, the musical synthesis on Free Jazz tends to go into the opposite direction: from a greater disorder to order. "Free Jazz" begins as a schizophrenic note salad, borne in chaos and given only a whiff of direction. The music may best be described as the best New Orleans Dixieland exposed and mutated by radiation exposure. It is the phenomenon where the music, at first blush, sounds completely untethered, at least until ideas begin to coalesce.

Once the piece is started in earnest, certain characteristics begin to manifest. Among these is Coleman's experiences playing blues. It saturates his playing and is present throughout the piece. Cherry's and by proxy, Hubbard's hard bop bona fides reveal themselves potently. From an ensemble point of view there is a migration through evolution, where the elements of swing can be heard in call-and-response phrasing and some natural Count Basie big band riffing emerges naturally among the horns. Also revealed is the innate sense of humor of the musicians, heard in the quotes of nursery rhymes and other jazz pieces.

Musicians:

Ornette Coleman, alto saxophone
Don Cherry, pocket trumpet
Scott LaFaro, bass
Billy Higgins, drums
Eric Dolphy, bass clarinet
Freddie Hubbard, trumpet
Charlie Haden, bass
Ed Blackwell, drums

Track Listing:

Side A Free Jazz (Part 1) 10:18
Side B Free Jazz (Part 2) 9:35
Side C Free Jazz (Part 3) 8:47
Side D Free Jazz (Part 4) 8:49
Click here to listen to samples on YouTube.com ♫