Patricia Barber Mythologies 2LP 180g Vinyl Numbered Limited Edition Mobile Fidelity Sound Lab MFSL USA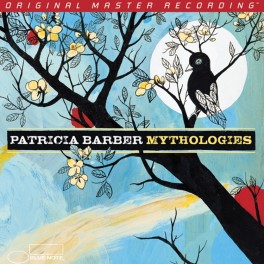 Maximize

Display all pictures
After the pianist became the only singer and songwriter to win a Guggenheim Fellowship, Patricia Barber set to create this modern masterpiece based on Greek Mythology and Ovid's "Metamorphoses" with stunning result. Audiophile half-speed mastering from the Original Master Tapes on the world famous Gain 2 Ultra Analog System, specially plated and pressed on 180gr pure virgin vinyl at RTI.
Limited Edition
Numbered Edition
Gain 2 Ultra Analog System Half-Speed mastering by MFSL
Cut by Paul Stubblebine
Cut from the Original Master Tapes
Specially plated and pressed on 180g High Definition Vinyl
A singular jazz work, Patricia Barber's groundbreaking Mythologies is the result of the pianist becoming the only singer-songwriter to ever win a Guggenheim Fellowship. Allowed the time to craft a sophisticated album, the ambitious 2006 set is without peer in any musical genre. A cycle based on Greek mythology and Ovid's "Metamorphoses," Mythologies brings each of the eleven characters from Ovid's play to life in song.

Accompanied by guitarist Michael Alger, bassist Michael Arnapol, and drummer Eric Montzka, and assisted by a few special guest background vocalists--including a children's choir--Barber has turned in one of the first legitimate masterworks of the new century.

"When Patricia Barber's Mythologies (Blue Note Records) appears in stores on Tuesday, listeners will hear a piece of music with no apparent model in jazz of the 20th Century (or the 21st). For though classically tinged jazz suites date back to at least Duke Ellington's Black, Brown and Beige (1943) and extend to epic works such as Charles Mingus' posthumously premiered Epitaph (1989) and Wynton Marsalis' Pulitzer Prize-winning Blood on the Fields (1997), Mythologies stands apart from such behemoths."
–Howard Reich, Chicago Tribune, August 2006

Lyrically addressing lovestruck emotions, insomnia, desires, risks, and more, Barber habitually turns conventions on their head. She matches her sonnets, double entendres, and fascinating narratives with music that's at once seductive, sad, beautiful, and powerful. Intended to be listened to from start to finish, Mythologies comes off as a sonic cycle that traces life and death in an engrossingly imaginative fashion that's on par with the classic Greek influences.

Half-speed mastered from the original master tapes, Mobile Fidelity's numbered limited-edition 180-gram 2-LP set of Mythologies boasts astounding sonics. Every vocal delicacy and breathy aspect of Barber's singing is fully audible, balanced, and gorgeously textured. Instrumental decay and acoustic details are suspended against a pitch-black background. Vocal jazz records don't get better than this! Don't settle for the standard CD version, which is robbed of much of the presence, richness, and atmosphere.

Track Listing:

01. The Moon
02. Morpheus
03. Pygmalion
04. Hunger
05. Icarus
06. Orpheus/Sonnet
07. Persephone
08. Narcissus
09. Whiteworld/Oedipus
10. Phaeton
11. The Hours
Click here to listen to samples on AllMusic.com ♫