Bill Evans ‎Some Other Time 2LP 180g Vinyl The Lost Session From The Black Forest Resonance Records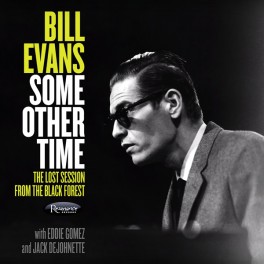 Maximize

Display all pictures
Artist:
Bill Evans
Title:
Some Other Time
Catalog Number:
HLP-9019
Label:
Resonance Records
Barcode:
096802280283
Edition:
Record Store Day
Original release year:
2016
Number of discs:
2
Revolutions per minute:
33⅓ rpm
Disc size:
12"
Vinyl Weight Grade:
180gr
Limited Edition:
Yes
Numbered Edition:
Yes
Total Item Weight:
622gr
Pressing country:
USA
For Market Release in:
USA
Added to catalog on:
June 7, 2016
Note:
Not eligible for any further discounts
Vinyl Gourmet Club:
No
SPECIAL ORDER: Not available to order online, please contact us for more information about available payment options and shiping cost.

Never before released 1968 studio album by legendary pianist Bill Evans with Eddie Gomez and Jack DeJohnette. Recorded by Georg Brunner-Schwer and Joachim-Ernst Berendt at MPS Studios, Villingen, in The Black Forest in Germany. Special limited edition, exclusive Record Store Day 2016 hand-numbered 2LP set mastered by Bernie Grundman and pressed on 180 Gram vinyl at RTI, USA.
Limited Edition (4000 units worldwide)
Numbered Edition (hand-numbered)
Exclusive Record Store Day 2016 Relesase
Recording Never Released Before
2LP 180 Gram Audiophile Vinyl
Pressed at RTI, USA
Mastered by Bernie Grundman
8 Page Insert with exclusive interviews, essays and rare photos
Gatefold Cover
Newly unearthed studio session from the iconic pianist Bill Evans, Some Other Time: The Lost Session from The Black Forest is a landmark discovery for jazz listeners around the world. Unique studio recording made on June 20, 1968, five days after the Bill Evans Trio's triumphant performance at the Montreux Jazz Festival. Only the second album — and the only studio album to feature the Bill Evans in trio, duo and solo configurations with brilliant drummer, Jack DeJohnette, and great bassist and Evans Trio veteran, Eddie Gomez.
8 page booklet features interviews with Bill Evans Trio members Eddie Gomez and Jack DeJohnette and essays by celebrated author and critic Marc Myers, producer Zev Feldman and MPS Studios engineer and studio manager and German jazz authority Friedhelm Schulz, along with extraordinary rare and previously unpublished photographs by David Redfern, Giuseppe Pino, Jan Persson and Hans Harzheim, including two images by German Hasenfratz taken at the June 20, 1968 session.
These recordings were only recently discovered in the Brunner-Schwer family archives. Bill Evans Some Other Time: The Lost Session From the Black Forest, a previously unknown and extremely rare studio album by the Bill Evans Trio recorded on June 20, 1968 by legendary German jazz producers Hans Georg Brunner-Schwer and Joachim-Ernst Berendt. Resonance will release this album — which has never before been issued in any form — on Saturday April 16, 2016 in a special limited-edition hand-numbered two-LP set on Record Store Day.
Track Listing:
LP 1 Side A
01. You Go To My Head
02. Very Early
03. What Kind Of Fool Am I?
04. I'll Remember April
05. My Funny Valentine
LP 1 Side B
06. Baubles, Bangles and Beads
07. Turn Out The Stars
08. It Could Happen To You
09. In A Sentimental Mood
10. These Foolish Things
11. Some Other Time

LP 2 Side C
01. You're Gonna Hear From Me
02. Walkin' Up
03. Baubles, Bangles and Beads
04. It's All Right With Me (Incomplete)
05. What Kind Of Fool Am I?
LP 2 Side D
06. How About You?
07. On Green Dolphin Street
08. Wonder Why
09. Lover Man (Oh, Where Can You Be?)
10. You're Gonna Hear From Me (Alternate Take)