George Benson Beyond The Blue Horizon LP 180 Gram Vinyl CTI Speakers Corner Pallas Germany 2012 EU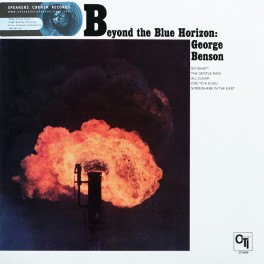 Maximize
Artist:
George Benson
Title:
Beyond The Blue Horizon
Catalog Number:
CTI 6009
Label:
CTI
Reissued by:
Speakers Corner
Barcode:
4260019714282
Original release year:
1971
Reissue year:
2012
Number of discs:
1
Revolutions per minute:
33⅓ rpm
Disc size:
12"
Vinyl Weight Grade:
180gr
Total Item Weight:
411gr
Pressing country:
Germany
For Market Release in:
EU
Added to catalog on:
May 20, 2016
Note:
Not eligible for any further discounts
Vinyl Gourmet Club:
No
Creed Taylor showed good judgement for this 1971 CTI session teaming Benson up with a small yet supremely talented group of musicians: Jack De Johnette on the drums takes Ron Carter's bass and Clarence Palmer's organ on a superb ride. Benson is clearly as much at home with DeJohnette's advanced playing as he was in soul-jazz, and his tone is edgier, with more bite, than it had been for awhile.
100% Pure Analog Mastering
Audiophile 180 Grams Virgin Vinyl
Pressed at Pallas Germany
Gatefold Cover
Cut by Willem Makkee
George Benson was the pupil and Wes Montgomery his teacher! And the sound of the great maestro, who played without the use of a plectrum, is quite unmistakable in this recording produced by CTI Records with George Benson in 1971. Furthermore, producer Creed Taylor showed good judgment when he teamed Benson up with a small yet supremely talented group of musicians that included Jack DeJohnette on the drums, Ron Carter on bass and Clarence Palmer on organ.
Carter and Benson had met one another briefly during a Miles Davis recording session, but there the drummer was Tony Williams. Here, with DeJohnette participating, the numbers gain real soul. But the lyrical side doesn't come up short either: "Ode To A Kudu" demonstrates this particular attribute of Benson's to perfection. And "Somewhere To The East" proves that he isn't afraid to experiment. All in all, Beyond The Blue Horizon is one of the top albums in George Benson's long and commercially viable career!

Musicians:
George Benson, guitar
Jack DeJohnette, drums
Ron Carter, bass
Clarence Palmer, organ
Michael Cameron, percussion
Albert Nicholson, percussion
Track Listing:
1. So What?
2. The Gentle Rain
3. All Clear
4. Ode To a Kudu
5. Somewhere In the East
Recording: February 1971 at Van Gelder Studios, Englewood Cliffs, NJ (USA), by Rudy Van Gelder
Production: Creed Taylor
Click here to listen to samples on YouTube.com ♫