Kenny Burrell Midnight Blue LP 180 Gram Vinyl 33rpm Music Matters Blue Note Limited Edition RTI USA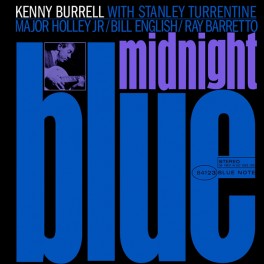 Maximize

Display all pictures
From Music Matters impressive 33rpm Reissue Series, one of the best Blue Note titles and Burrell's famous session with Stanley Turrentine, Ray Barretto and more. Audiophile mastering from Original Analog Master Tapes by Kevin Gray at Cohearent Audio on 33rpm 180gr virgin vinyl pressed at RTI and presented in a luxurious gatefold cover with stunning high resolution session photos.

Featured in Vinyl Gourmet Audiophile TOP 100
Limited Edition of Only 3500 Copies
Cut from the Original Rudy Van Gelder Blue Note Stereo Master Tapes
Remastered by Kevin Gray at Cohearent Audio
100% Analog Mastering and Cutting
Pressed on 180gr Virgin vinyl by RTI
Deluxe gatefold cover with high resolution session photos
Kenny Burrell has led over 100 albums in his long career and is the epitome of good taste and melodic swing, never playing a phrase that would be considered out-of-place or unworthy. He first recorded in 1951 with Dizzy Gillespie and was a major part of the Detroit jazz scene before emerging in New York in 1956. Burrell was one of the very first guitarists to be showcased in a pianoless trio, and when he was signed to Blue Note, he became one of the most influential guitarists in jazz. However to hear Burrell at his most soulful and bluesy, one has to find recordings where he is teamed with a particularly inspiring stylist. 1963's Midnight Blue is considered one of the most exciting recordings of Kenny Burrell's long career. It was a magical occasion that teamed Burrell with the passionate tenor-saxophonist Stanley Turrentine in a pianoless quintet that also includes Ray Barretto on congas.
With Turrentine (who is immediately recognizable within two sounds) infusing each note with an excess of soul and Barretto giving the blues-oriented music a Latin tinge, Burrell raises the heat and is heard at his most exhilarating and extroverted. His soulful playing on such songs as "Chitlins Con Carne," "Saturday Night Blues" and "Gee Baby Ain't I Good To You" is so greasy and emotional that it reminds one that both B.B. King and Duke Ellington often cited Kenny Burrell as their favorite guitarist. While Kenny Burrell has recorded scores of albums since this time, Midnight Blue cannot be topped and will always be one of the key recordings that he will be remembered for. This superbly recorded classic needs to be in every jazz collection.
Musicians:

Stanley Turrentine, tenor sax
Kenny Burrell, guitar
Major Holley, Jr., bass
Bill English, drums
Ray Barretto, conga

Track Listing:

1. Chittlins Con Carne
2. Mule
3. Soul Lament
4. Midnight Blue
5. Wavy Gravy
6. Gee Baby Ain't I Good To You
7. Saturday Night Blues
Click here to listen to samples on AllMusic.com ♫