John Carpenter Escape From New York 2LP 180g Vinyl Soundtrack Expanded Edition Alan Howarth 2015 EU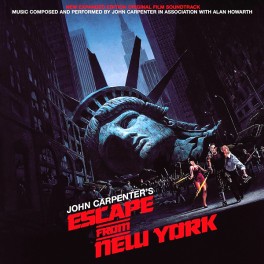 Maximize

Display all pictures
Artist:
John Carpenter
Title:
Escape From New York
Catalog Number:
SILLP1493
Label:
Varèse Sarabande
Reissued by:
Silva Screen
Barcode:
738572149376
Edition:
New Expanded Edition
Original release year:
1981
Reissue year:
2015
Number of discs:
2
Revolutions per minute:
33⅓ rpm
Disc size:
12"
Vinyl Weight Grade:
180gr
Limited Edition:
Yes
Total Item Weight:
563gr
Pressing country:
EU
For Market Release in:
EU
Added to catalog on:
May 4, 2016
Note:
Limited Eligibility for Discounts
John Carpenter not only directed Escape From New York but also composed and recorded all of its music too. This score sounds as fresh today as it did when it was first released. Laden with brooding electronic pulses, flashes of Krautrock and healthy dose of nu disco results in an intense, dynamic and creative sound ambience.
Limited Edition (1500 units)
2LP Audiophile 180 Gram Vinyl
New Expanded Edition
Gatefold Cover
Originally released on CD in 2000, the expanded soundtrack edition of Carpenter's classic 1981 thriller included over 20 minutes of previously unreleased material plus music from scenes deleted from the final print. The masters were re-mixed from the original multi-track session tapes by long-time Carpenter associate Alan Howarth. This is the first time the expanded edition has appeared on vinyl in its complete form, including original dialogue highlights!
"John Carpenter is a rarity among film directors in that he is also a composer who writes the musical scores for his movies as well. Carpenter's 1981 film Escape From New York was a kind of genre hybrid, a science-fiction crime thriller with suggestions of a spaghetti western thrown in. Set in a near future when Manhattan has been converted into a no-man's-land prison, the movie needed an appropriately futuristic soundtrack, and Carpenter came up with a score for synthesizer that he played with his sound designer Alan Howarth. Despite the instrumentation, however, the composer retained a style familiar from such earlier works as Halloween. He favored simple, repetitive keyboard figures, generally two per sequence, set in a fast-slow counterpoint. The Escape From New York score had a few changes of pace, notably a borrowing from Debussy and an ersatz Broadway show tune, "Everyone's Coming to New York" ("Shoot a cop with a gun/The Big Apple is plenty of fun"), but most of the music sounded like earlier Carpenter scores, similarly creating a tense, ominous tone much of the time.
The high-tech sound was sometimes at odds with the bombed-out sets in the film, but it helped maintained a tense mood in a movie that sometimes threatened to become comical because it was so stylized. Two decades later, when the soundtrack was reissued on an expanded CD, the synth sound was no longer futuristic but very much of its early-'80s time. Howarth, who had constructed the original 37-minute LP, re-edited and retitled the previously released material and came up with an additional 20 minutes' worth of cues and excerpts from the film's arch dialogue. There was music from two cut scenes and an unused closing-credit theme, all of it in a consistent style with the previously heard material." ~ William Ruhlmann, All Music

Track Listing:
01. Main Title
02. The Bank Robbery
03. "Prison Introduction" (Dialogue)
04. Over The Wall/ Airforce One
05. He's Still Alive / Romero
06. "'Snake' Plissken" (Dialogue)
07. Orientation
08. "Tell Him" (Dialogue)
09. Engulfed Cathedral (Debussy)
10. Across The Roof
11. Descent Into New York
12. Back To The Pod - Version #1
14. Everyone's Coming To New York
15. "Don't Go Down There" (Dialogue)
16. Back To The Pod - Version #2/ The Crazies Come Out
16. "I Heard You Were Dead" (Dialogue)
17. Arrival At The Library
18. "You Are The Duke Of New York" (Dialogue)
19. The Duke Arrives / Barricade
20. President At The Train
21. "Who Are You?" (Dialogue)
22. Police Action
23. Romero And The President
24. The President Is Gone
25. 69th Street Bridge
26. Over The Wall
27. "The Name Is Plissken" (Dialogue)
28. Snake Shake