Charles Mingus Mingus Mingus Mingus Mingus 2LP 45rpm 180g Vinyl Impulse Analogue Productions QRP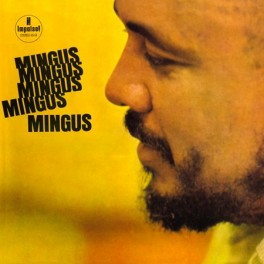 Maximize
Artist:
Charles Mingus
Title:
Mingus Mingus Mingus Mingus Mingus
Catalog Number:
Stereo AS-54
Label:
Impulse!
Reissued by:
Analogue Productions
Original release year:
1963
Reissue year:
2009
Number of discs:
2
Revolutions per minute:
45 rpm
Disc size:
12"
Vinyl Weight Grade:
180gr
Limited Edition:
Yes
Total Item Weight:
706gr
Pressing country:
USA
For Market Release in:
USA
Added to catalog on:
May 06, 2014
Last modified / Restocked on:
December 26, 2022
Collection:
Analogue Productions Impulse! Series
Note:
Never eligible for any further discounts
Vinyl Gourmet Club:
No

It's impossible to remain indifferent to Charles Mingus and this album showcases his huge talent as a writer, piano and bass player. This is also the final recording of one of the most inventive and significant chapters of any musician in Jazz History. Audiophile mastering by Kevin Gray at AcousTech on 180gr 45rpm vinyl pressed at RTI. Unmissable!
Limited Edition
Mastered by Kevin Gray at AcousTech
Audiophile All Analog cut
2LP 45rpm 180gr Vinyl Pressed at QRP USA
Deluxe Gatefold Cover
This 1963 recording is a major showcase of the talented Charles Mingus as a bassist, pianist, and writer. From the blues-painted bass moaning that opens "II BS," to the blazing fire of "Hora Decubitis," these tunes come furiously barreling out one after another. Speed and density aside, however, there are also multicolor, lovely tunes like Ellington's "Mood Indigo" and Mingus' paean to Lester Young. More than anything, though, Mingus Mingus Mingus Mingus Mingus is a major document due to the presence of two alternating big ensembles, anchored by Jaki Byard on piano and fronted by a herd of horn players, Eric Dolphy and Booker Ervin chief among them.
"Mingus is also all about the ensemble...this reissue has a life and immediacy I've not heard before with this title" - Wayne Garcia, The Absolute Sound
Musicians:

Eddie Preston - Trumpet
Richard Williams - Trumpet
Britt Woodman - Trombone
Don Butterfield - Tuba
Jerome Richardson - Soprano, baritone saxes, flute
Dick Hafer - Tenor sax, clarinet, flute
Booker Ervin - Tenor sax
Eric Dolphy - Alto sax, flute
Jaki Byard - Piano
Charles Mingus - Bass, Piano
Walter Perkins - Drums
Rolf Ericson - Trumpet
Richard Williams - Trumpet
Quentin Jackson - Trombone
Don Butterfield - Tuba
Jerome Richardson - Soprano, baritone saxes, flute
Dick Hafer - Tenor sax, flute, oboe
Charlie Mariano - Alto sax
Jay Berliner - Guitar
Dannie Richmond - Drums

Track Listing:

1. II B.S.
2. I X Love
3. Celia
4. Mood Indigo
5. Better Get Hit in Yo' Soul
6. Theme for Lester Young
7. Hora Decubitus
Click here to listen to samples on YouTube.com ♫