Henry Mancini The Pink Panther Soundtrack 2LP 45rpm 200 Gram Vinyl Analogue Productions QRP 2015 USA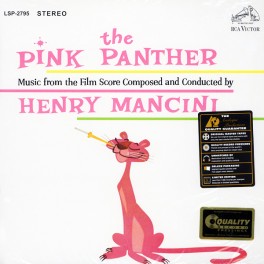 Maximize

Display all pictures
Marking the 50th anniversary of the score to the classic film, Analogue Productions and Quality Record Pressings have created a truly remarkable pressing of this audiophile classic, the soundtrack to the film 'The Pink Panther', from quintessential American soundtrack composer Henry Mancini.
Limited Edition
2LP 45rpm 200 Gram Vinyl
Pressed at Quality Record Pressings QRP, USA
Mastered by Ryan K. Smith at Sterling Sound
Cut from Original Analog Master Tapes
Deluxe Gatefold Cover
Just in time for it's 50th anniversary, Analogue Productions is offering up a new 200g 45rpm 2LP pressing of the quintessential American soundtrack composer Henry Mancini's unforgettable film score for the iconic 1963 crime caper comedy The Pink Panther, starring Peter Sellers and directed by Blake Edwards.
Mancini's indelible "Pink Panther Theme," is, in the current digital era, the #1 most-streamed song in the entire Sony Music catalog. The original Pink Panther soundtrack album, which took home three Grammy Awards in 1964, was given a well deserved Grammy Hall of Fame Award in 2001.
Henry Mancini composed music that's woven into the fabric of American pop culture: "The Pink Panther Theme," the "Peter Gunn" bass line, "Moon River" (from Breakfast at Tiffany's), "Days of Wine and Roses" and more. Mancini holds the record for most Grammy nominations (72), out of which he won 20. In addition to his four Academy Awards, he won a Golden Globe, secured two Emmy nominations and was honored in 2004 with a United States Commemorative Postal Stamp.

"The Pink Panther is another fine, early-'60s soundtrack from Henry Mancini. The title track became one of his most recognizable themes and kicks off a pleasant program of dreamy lounge cuts and Latin-tinged numbers. As he did on many other movie/TV albums (Touch of Evil, Peter Gunn, etc.), Mancini also includes some noirish, big band numbers, like "The Tiber Twist" and the main title. Along with these up-tempo songs, he balances out the mostly light material with the solidly swinging mambos "The Village Inn," "Something for Sellers" (as in Peter Sellers, the movies' star), and "It Had Better Be Tonight" (co-written by frequent partner Johnny Mercer and something of a minor vocal hit upon its release).
The program's highlights, though, come from the kind of sublime ballads he usually included on his soundtracks; the after-hours jazz tune "Royal Blue" stands out in particular, with its tasteful string arrangement and glowing trumpet solo. This is a great title for fans of Mancini's lounge/soundtrack material, but those more into his jazz material should consider either his Peter Gunn or Combo soundtracks." ~ Stephen Cook, All Music
Track Listing:
LP 1 Side A
1. The Pink Panther Theme
2. It Had Better Be Tonight (Instrumental)
3. Royal Blue
LP 1 Side B
4. Champagne and Quail
5. The Village Inn
6. The Tiber Twist
LP 2 Side C
1. It Had Better Be Tonight (Vocal)
2. Cortina
3. The Lonely Princess
LP 2 Side D
4. Something For Sellers
5. Piano and Strings
6. Shades of Sennett
Click here to listen to samples on YouTube.com ♫