Beethoven Triple Concerto LP 180 Gram Vinyl Karajan Oistrakh Rostropovich Richter Hi-Q Supercuts EU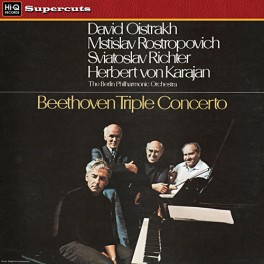 Maximize

Display all pictures
Artist:
Herbert von Karajan
Title:
Beethoven Triple Concerto
Catalog Number:
HIQLP006
Label:
EMI
Reissued by:
Hi-Q Records
Barcode:
5060218890065
Original release year:
1970
Reissue year:
2010
Number of discs:
1
Revolutions per minute:
33⅓ rpm
Disc size:
12"
Vinyl Weight Grade:
180gr
Total Item Weight:
294gr
Pressing country:
EU
For Market Release in:
EU
Added to catalog on:
January 5, 2016
Vinyl Gourmet Audiophile TOP 100:
Yes
Note:
Never eligible for any further discounts
Vinyl Gourmet Club:
No
EMI waited many years to get these legendary artists together for this recording and the result was one of the greatest recordings this work has ever received. This latest reissue has been newly cut at EMI's Abbey Road Studios from the original stereo EMI Master Tapes. It was recorded at Berlin's Jesus-Christ Church on 28 & 29 September 1969 and produced by Peter Andry.
Featured in Vinyl Gourmet Audiophile TOP 100

Hi-Q Records Supercuts
180 Gram Audiophile Vinyl
Cut from the Original EMI Analog Master Tapes
Mastered at Abbey Road Studios
Features Original Album Artwork
"Cut at Abbey Road Studios from the original stereo analogue master tapes with the Neumann VMS82 lathe fed an analogue pre-cut signal from a specially adapted Studer A80 tape deck with additional 'advance' playback head, making the cut a totally analogue process. Pressed using the original EMI presses at The Vinyl Factory in Hayes, England"
"Even in these days of star-studded casting on record, the line-up for this latest version of the Triple Concerto is nothing short of breathtaking. So breathtaking I was worried that my expectations would run ahead of all possible achievement. But not so. This is a marvellous performance that will clearly remain a classic for years to come" ~ Edward Greenfield, GRAMOPHONE, September 1970
Musicians:

David Oistrakh (violin)
Mstislav Rostropovich (cello)
Sviatoslav Richter (piano)
Berlin Philharmonic Orchestra
Herbert von Karajan (conductor)

Track Listing:

Side A
Beethoven
Concerto for Violin, Cello and Piano in C Major, Op. 56 "Triple Concerto" – Allegro

Side B
Beethoven
Concerto for Violin, Cello and Piano in C Major, Op. 56 "Triple Concerto" – Largo
Beethoven
Concerto for Violin, Cello and Piano in C Major, Op. 56 "Triple Concerto" – Rondo alla Polacca
Click here to listen to samples on AllMusic.com ♫