Lee Ritenour 6 String Theory 2LP 180 Gram Vinyl SST Universal Play 33 Pallas Germany Pressing 2015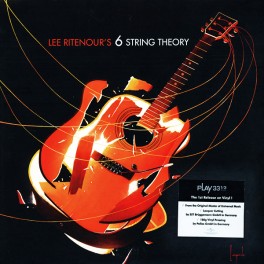 Maximize

Display all pictures
Guitarist Lee Ritenour decided to celebrate his 50th year as a guitar player by inviting a bevy of name guitarists into the studio to jam out some tunes, all in the name of love for their chosen instrument. Ritenour's subsequent album, 2010's 6 String Theory, is just that, a varied celebration on the many styles and players who have utilized the guitar. The result is an expansive, ambitious, but never belabored album that touches on jazz, blues, funk, and rock.
Universal Play 33 1/3 Series
Double LP 180 Gram Audiophile Vinyl
Cut from Original Masters of Universal music
Lacquer cut at SST Bruggemann GmbH in Germany
Pressing from Pallas in Germany
Deluxe Gatefold Cover
Poly-lined inner sleeves
6 Page Booklet
Released on vinyl for the first time
6 String Theory expands beyond the usual Ritenour approach while remaining true to his unique six-string sound. To these ends, Ritenour duets with such artists as contemporary bluesman Keb' Mo', fusion/post-bop legend Pat Martino, and blues icon B.B. King, as well as George Benson, Slash, Mike Stern, John Scofield, Taj Mahal, Joey DeFrancesco, Joe Bonamassa, Robert Cray, Steve Lukather, Neal Schon, Vince Gill, Jonny Lang, Andy McKee, Tomoyasu Hotei, Guthrie Govan, Tal Wilkenfeld, and others. To say this is an all-star affair is an understatement and fortunately, it delivers on Ritenour's promise of a guitar celebration.
Track Listing:

LP 1 Side A
1. Lay It Down - John Scofield & Lee Ritenour
2. Am I Wrong - Keb Mo & Taj Mahal
3. L.P. (For Les Paul) - Lee Ritenour, Pat Martino, & Joe DeFrancesco

LP 1 Side B
1. Give Me One Reason - Joe Bonamassa & Robert Cray
2. "68" - Steve Lukather, Neal Schon, & Slash
3. In Your Dreams - Steve Lukather, Lee Ritenour, & Neal Schon
4. My One And Only Love - George Benson

LP 2 Side C
1. Moon River - George Benson & Joey DeFrancesco
2. Why I Sing The Blues - B.B. King, Vince Gill, Keb Mo, Jonny Lang, & Lee Ritenour
3. Daddy Longlicks - Joe Robinson
4. Shape Of My Heart - Lee Ritenour, Steve Lukather, & Andy McKee

LP 2 Side D
1. Drifting - Andy McKee
2. Freeway Jam - Mike Stern, Tomoyasu Hotei, & Lee Ritenour
3. Fives - Guthrie Govan & Tal Wilkenfeld
4. Caprices, Op.20, No.2 and 7 - Shon Boublil
Click here to listen to samples on AllMusic.com ♫