Flea Helen Burns LP 180 Gram Vinyl (EP) Bernie Grundman Mastering ORG Music 2012 USA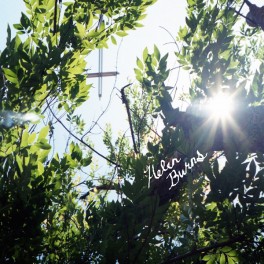 Maximize

Display all pictures
Artist:
Flea
Title:
Helen Burns
Catalog Number:
ORGM-1098 / 531688-1
Label:
ORG Music
Barcode:
711574709014
Original release year:
2012
Number of discs:
1
Revolutions per minute:
33⅓ rpm
Disc size:
12"
Vinyl Weight Grade:
180gr
Total Item Weight:
283gr
Pressing country:
EU
For Market Release in:
USA
Added to catalog on:
September 13, 2015
Helen Burns is a six song EP by Flea, bassist from Red Hot Chili Peppers, released in 2012. The EP marks the first solo release by Flea who has previously only released solo work on soundtracks. The EP is almost all instrumental except for an appearance by Patti Smith on the title track and a choir on the final track. One of the most refreshing and interesting releases from 2012.
The Helen Burns EP was originally recorded in 2007 by Flea and Chris Warren, drum technician and keyboard player for the Chili Peppers. Flea said he had no plans for the album to be anything but to just record it in the back room at his house following a long Chili Peppers tour and as a way for Warren to learn how to be a sound engineer. The title of the EP, according to Flea, comes from a character in the 1847 novel Jane Eyre.

Flea explains "the beauty of Helen Burns is a quality I look for in all human beings. Burns is always someone who is present with me and whose highest ideals resonate in the deepest experiences of my life". All songs were produced and written by Flea, except "Helen Burns," which was co-written with Patti Smith. Featuring performances by founding RHCP drummer, Jack Irons; current drummer, Chad Smith; and Patti Smith. 180g vinyl pressed in Europe.

"The most delightful surprise of the year." - Diffuser
"With a sorrowful title track that features Patti Smith singing alongside Flea on piano, Helen Burns is an unexpected departure for the usually raging slap-bass virtuoso and full-time Red Hot Chili Pepper. Recorded just after the Stadium Arcadium tour, the project started as a way for his touring keyboardist Chris Warren to learn the ins and outs of recording, but after Flea's music started taking shape, he decided to complete it and make it available as a free download through the Silverlake Conservatory of Music website. Like John Frusciante's solo outings, the music is artistic, daring, and a little far out, but decidedly better than one might expect. Jazz and electronic music play an influence, with "333" soaring through psychedelic territory like a Flying Lotus cut, and "Pedestal of Infamy" grooving along as nicely as a track by Broadcast. An underrated, technically accomplished musician, Flea's abilities are surprising on whatever instrument he chooses to play - from keyboards, to trumpet, to percussion, to double bass - but the real achievement is in the songwriting." ~ Jason Lymangrover, All Music


Track Listing:

1. 333
2. Pedestal Of Infamy
3. A Little Bit Of Sanity
4. Helen Burns
5. 333 Revisited
6. Lovelovelove
Click here to listen to samples on AllMusic.com ♫