Neil Young + Promise Of The Real The Monsanto Years 2LP 180g Vinyl Bernie Grundman Pallas 2015 USA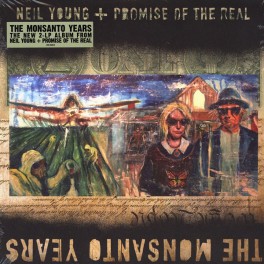 Maximize

Display all pictures
Artist:
Neil Young
Title:
The Monsanto Years
Catalog Number:
549799-1
Label:
Reprise Records
Barcode:
093624926801
Original release year:
2015
Number of discs:
2
Revolutions per minute:
33⅓ rpm
Disc size:
12"
Vinyl Weight Grade:
180gr
Total Item Weight:
629gr
Pressing country:
Germany
For Market Release in:
USA
Added to catalog on:
August 24, 2015
Note:
Not eligible for any further discounts
The Monsanto Years is the thirty-sixth studio album by Neil Young, released in 2015 on Reprise Records. A concept album criticizing the agricultural business Monsanto, it's a collaboration with Willie Nelson's sons Lukas and Micah and their bandmates from Promise of the Real. Guitar-centric, full steam-ahead and highly-charged rock album where Young rages against all manner of modern issues.
2LP 180 Gram Audiophile Vinyl
Pressed at Pallas in Germany
Cut by Chris Bellman at Bernie Grundman Studios USA
High Quality Gatefold Cover
Side D with artwork etched on vinyl
Neil Young + Promise of the Real have joined forces and have released a new studio album, The Monsanto Years. For this guitar-centric, full steam-ahead and highly-charged rock album, Young is joined by Promise of the Real, an LA-based rock band fronted by Lukas Nelson (vocals/guitar), along with Micah Nelson (guitar, vocals), Anthony Logerfo (drums), Corey McCormick (bass) and Tato Melgar (percussion).

Old folkie that he is, Neil Young harbors a soft spot for songs as protest, and The Monsanto Years is full of them. Where he often railed against war, here the purported target is the agricultural company Monsanto, a firm that, among other things, specializes in genetically modified crops, but Young uses that as a pivot to rage against all manner of modern outrages.

Apathy among the populace, avarice among corporations, and cultural homogenization provide the throughline on The Monsanto Years, and while the weathered hippie takes some time to lay down his electric guitar and breathe, this isn't a mournful album like Living with War, his W-era missive. This is a raging record and to that end, Young hired the Promise of the Real, a ragtag outfit led by Willie Nelson's guitarist son Lukas, to approximate Crazy Horse's lop-legged lumber.


Track Listing:

LP 1
1. A New Day For Love
2. Wolf Moon
3. People Want To Hear About Love
4. Big Box

LP 2
5. A Rock Star Bucks A Coffee Shop
6. Workin' Man
7. Rules Of Change
8. Monsanto Years
9. If I Don't Know
Click here to listen to samples on AllMusic.com ♫