Kruder Dorfmeister The K&D Sessions 5LP 180 Gram Vinyl !K7 Records Bernie Grundman Pallas 2015 EU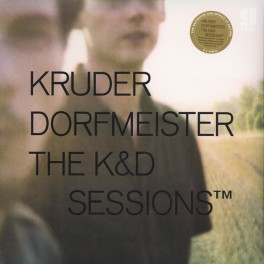 Maximize

Display all pictures
Artist:
Kruder Dorfmeister
Title:
The K&D Sessions TM
Catalog Number:
!K7073LP
Label:
STUD!O K7
Reissued by:
!K7 Records
Barcode:
730003707346
Edition:
20th Anniversary Edition
Original release year:
1998
Reissue year:
2015
Number of discs:
5
Revolutions per minute:
33⅓ rpm
Disc size:
12"
Vinyl Weight Grade:
180gr
Total Item Weight:
1235gr
Pressing country:
Germany
For Market Release in:
EU
Added to catalog on:
July 11, 2015
Note:
Never eligible for any further discounts
Vinyl Gourmet Club:
No
One of the best remix albums of all time, includes reworkings of music from artists like Roni Size, Lamb, David Holmes, Bomb the Bass, Depeche Mode, Bone Thugs-N-Harmony, Sofa Surfers, and Count Basic. Kruder and Dorfmeister at their peak provide us with magical downtempo and unforgettable Dub / Trip Hop. The Definitive Audiophile 5LP Edition remastered by Bernie Grundman and pressed at Pallas!
20th Anniversary Edition
Back on vinyl for the first time in more than 15 years!
Definitive Audiophile Edition
Trifold Cover
5 LP 180 Gram Vinyl
Pressed at Pallas in Germany
Cut by Bernie Grundman
Originally released on Studio !K7 Records in 1998, Peter Kruder and Richard Dorfmeister's groundbreaking release, 'The K&D Sessions' reset the bar for what could be achieved in a compilation. Across an array of original tracks, dubs and infamous 'K&D Session' remixes, the DJ and producer duo took the listener on a smoke-filled blunted journey that flowed flawlessly.

Often compared to DJ Shadow's 'Endtroducing' for it's similarly deft craft of rhythm and quoted by Allmusic as "the most blissfully blunted music the world has ever heard", the album has sold over 1,000,000 copies to date and was included in Spin's 'Top 20 albums of 1999'.

The album has long since been deleted on Vinyl with original 4LP sets changing hands for €300+ on the collectors market and even a bootleg vinyl copy will set a buyer back over €100. Sixteen years later, this legendary album will be available as a long overdue 5LP reissue remastered by Bernie Grundman Mastering in Hollywood.
"While Kruder & Dorfmeister remained unwilling to release a "proper" album even several years after their breakout, The K&D Sessions is proof positive they're still doing what they do best -- making the most blissfully blunted music the world has ever heard. The two-disc set is first and foremost a K&D mix album, to add to the two they'd already released. It's also a remix collection, though; each of the 21 tracks are reworkings (by Kruder, Dorfmeister, or both) for artists including Roni Size, Lamb, David Holmes, Bomb the Bass, Depeche Mode, Bone Thugs-N-Harmony, Sofa Surfers, and Count Basic. As could be expected, The K&D Sessions is earthy, downtempo and acid-based, even moreso than previous mix albums by the pair. The pinging vocal samples that echo through the duo's remix of "Bug Powder Dust" by Bomb the Bass prove amply that Kruder & Dorfmeister have a better handle on 21st-century dub techniques than any other producers out there, and the impossibly deep beats on almost every track simply couldn't have been recorded by any other act. Yes, it's a bit of a shame that the pair still hadn't released an album of own-productions, but with (re)mix albums this stunning and accomplished, Kruder & Dorfmeister hardly needed one to gain respect." - John Bush, All Music


Track Listing:

01. Roni Size - Heroes (Kruder's Long Loose Bossa)
02. Alex Reece - Jazz Master (K&D Session TM)
03. Bomb The Bass - Bug Powder Dust (K&D Session TM)
04. Lamb - Trans Fatty Acid (K&D Session TM)
05. Count Basic - Speechless (Drum 'n' Bass)
06. Rocker's HIFI - Going Under (K&D Session TM)
07. Depeche Mode - Useless (K&D Session TM)
08. Count Basic - Gotta Jazz (Rmx by R. Dorfmeister)
09. Aphrodelics - Rollin' On Chrome (Wild Motherfucker Dub)
10. Knowtoryous - The Revenge of Bomberclaad (K&D Session TM)
11. Rainer Trüby Trio - Donaueschingen (Peter Kruder's Donaudampfschifffahrtsgesellschaftskapitänskajütenremix)
12. David Holmes - Gone (K&D Session TM)
13. Sofa Surfers - Sofa Rockers (Richard Dorfmeister Mix)
14. Mama Oliver - Eastwest (Stoned Together)
15. Bomb The Bass - Bug Powder Dust (Dub)
16. Kruder.Dorfmeister - Boogie Woogie
17. Sin - Where Shall I Turn (K&D Session TM Vol. 2)
18. Bone Thugs 'n Harmony - 1st of tha Month (K&D Session TM)
19. Kruder.Dorfmeister - Lexicon
20. Knowtoryous - Bomberclaad Joint (K&D Session TM)
21. Rocker's HIFI - Going Under (Evil Love And Insanity Dub)
22. Strange Cargo - Million Town (K&D Session TM)
Click here to listen to samples on YouTube.com ♫