Air Pocket Symphony 2LP 180 Gram White Vinyl + Download Code Gatefold Cover Parlophone 2015 EU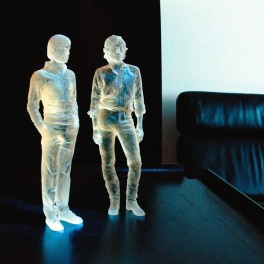 Maximize
Artist:
Air
Title:
Pocket Symphony
Label:
Virgin
Reissued by:
Parlophone
Barcode:
094638572213
Original release year:
2007
Reissue year:
2015
Number of discs:
2
Revolutions per minute:
33⅓ rpm
Disc size:
12"
Vinyl Weight Grade:
180gr
Extras:
Download Code
Total Item Weight:
580gr
Pressing country:
EU
For Market Release in:
EU
Added to catalog on:
June 18, 2015
Note:
Limited Eligibility for Discounts
Vinyl Gourmet Club:
No
Air is a music duo from Versailles, France, consisting of Nicolas Godin and Jean-Benoît Dunckel. Air's sound is often referred to as electronica, their form of electronic music was influenced by the synthesizer sounds of the 1970s such as Jean Michel Jarre, Vangelis, and Francis Lai. Other influences include psychedelic and progressive rock pioneers Pink Floyd.

2LP 180 Gram Vinyl
Remastered Audio
All Original Cover and Inserts Artwork
Gatefold Cover
Includes free download of the full album
All six AIR 2015 remastered albums available here:
Vinyl Gourmet Bundle: Air 2015 Remasters 6 Albums 8LP 180 Gram Vinyl EU
Pocket Symphony is the fifth full-length album by French duo Air. The album was released in March 2007 and features collaborations with Jarvis Cocker and Neil Hannon. Pocket Symphony also incorporates some of the Japanese instruments Nicolas Godin recently learned to play from an Okinawan master musician: the koto (also referred to as a Japanese floor harp) and the three-string, banjo-like shamisen. However, a press release claimed that "conventional instruments continue to play a great role" in the duo's music. The album features art by Xavier Veilhan. The first single from this album was "Once Upon a Time." Pocket Symphony debuted on the US Billboard 200 at number 40, with about 17,000 copies sold in its first week.

Co-produced by Nigel Godrich, Pocket Symphony features vocals by Dunckel and Godin but also from Jarvis Cocker and Neil Hannon (Divine Comedy). Air once again achieves that rare supernova of artistic vision that dares to reconcile palpable, unapologetic ambience with unpretentious soulful simplicity. They create the alternate now, an environment that begs escapism without denying humanity.

While conventional instruments continue to play a great role, Air fashioned several tracks with the addition of Far East classical instruments which Godin learnt to play from Shoko, a Japanese master - namely the Koto (usually referred to as a Japanese floor harp) and the Shamisen, a 3-stringed instrument which is one of Japan's most popular classical instruments and resembles the banjo. Working their way throughout the album as musical ricochets, these unearthly sounds of an alien nature add another motif to Air's sonic architecture.

This French duo gained inclusion into the late-'90s electronica surge due chiefly to the labels their recordings appeared on, not the actual music they produced. Their sound, a variant of the classic disco sound coaxed into a relaxing Prozac vision of the late '70s, looked back to a variety of phenomena from the period — synthesizer maestros Tomita, Jean-Michel Jarre, and Vangelis, new wave music of the non-spiky variety, and obscure Italian film soundtracks. Parlophone will be releasing reissues on heavyweight vinyl, remastered and with all original artwork.

"Air are still tremendously effective producers, and have actually expanded their palate with a surprising array of pop instrumentation...the production is stellar...Fans and involved listeners are definitely rewarded with increased dividends after multiple listens." - John Bush, AllMusic


Track Listing:

LP 1 Side A
1. Space Maker
2. Once Upon a Time
3. One Hell of a Party (feat. Jarvis Cocker)

LP 1 Side B
1. Napalm Love
2. Mayfair Song
3. Left Bank

LP 2 Side A
1. Photograph
2. Mer Du Japon
3. Lost Message

LP 2 Side B
1. Somewhere Between Waking and Sleeping (feat. Neil Hannon)
2. Redhead Girl
3. Night Sight