Air Talkie Walkie LP 180 Gram Vinyl + Download Code Parlophone 2015 EU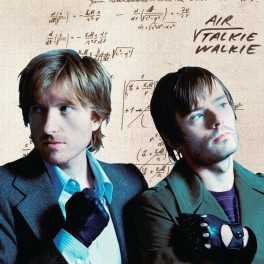 Maximize
Artist:
Air
Title:
Talkie Walkie
Label:
Virgin
Reissued by:
Parlophone
Barcode:
724359660011
Original release year:
2004
Reissue year:
2015
Number of discs:
1
Revolutions per minute:
33⅓ rpm
Disc size:
12"
Vinyl Weight Grade:
180gr
Extras:
Download Code
Total Item Weight:
295gr
Pressing country:
EU
For Market Release in:
EU
Added to catalog on:
June 18, 2015
Note:
Limited Eligibility for Discounts
Vinyl Gourmet Club:
No
Air is a music duo from Versailles, France, consisting of Nicolas Godin and Jean-Benoît Dunckel. Air's sound is often referred to as electronica, their form of electronic music was influenced by the synthesizer sounds of the 1970s such as Jean Michel Jarre, Vangelis, and Francis Lai. Other influences include psychedelic and progressive rock pioneers Pink Floyd.

LP 180 Gram Vinyl
Remastered Audio
All Original Cover and Inserts Artwork
Includes free download of the full album
All six AIR 2015 remastered albums available here:
Vinyl Gourmet Bundle: Air 2015 Remasters 6 Albums 8LP 180 Gram Vinyl EU
Talkie Walkie is the fourth full-length album by French music duo Air, released on January 27, 2004. The album was possibly named after the song "Le Talkie Walkie" by Serge Gainsbourg, a known influence of the duo. "Alone in Kyoto" was included on the soundtrack to the 2003 film Lost in Translation and "Run" was used in the Veronica Mars episode "Nobody Puts Baby in a Corner," as well as the 2004 French film Lila Says. "Talkie-walkie" means walkie-talkie in French.

Tracks like "Venus" and "Cherry Blossom Girl" recall the skewed pop of French pre-cursors Indochine. Dissonance, flipped melodies and synthetic held tones - that hold up to scrutiny against the high points of progressive rock - form the backbone of Air's ensemble moments. "Alpha Beta Gaga" - it's title forms an apt summary - encapsulates their talents precisely. Five minutes of collision-fun featuring: trickling analogue pulses, synthesized whistles and finger picking banjo in a context that amply demonstrates the (artificial) intelligence that forms the cornerstone of their prodigious output.

This French duo gained inclusion into the late-'90s electronica surge due chiefly to the labels their recordings appeared on, not the actual music they produced. Their sound, a variant of the classic disco sound coaxed into a relaxing Prozac vision of the late '70s, looked back to a variety of phenomena from the period — synthesizer maestros Tomita, Jean-Michel Jarre, and Vangelis, new wave music of the non-spiky variety, and obscure Italian film soundtracks. Parlophone will be releasing reissues on heavyweight vinyl, remastered and with all original artwork.

"Air are still tremendously effective producers, and have actually expanded their palate with a surprising array of pop instrumentation...the production is stellar...Fans and involved listeners are definitely rewarded with increased dividends after multiple listens." - John Bush, AllMusic


Track Listing:

Side A
1. Venus
2. Cherry Blossom Girl
3. Run
4. Universal Traveler
5. Mike Mills

Side B
1. Surfing On A Rocket
2. Another Day
3. Alpha Beta Gaga
4. Biological
5. Alone In Kyoto
Click here to listen to samples on AllMusic.com ♫