Nick Cave And The Bad Seeds Dig, Lazarus, Dig!!! 2LP 180 Gram Vinyl + Download Mute Records 2014 EU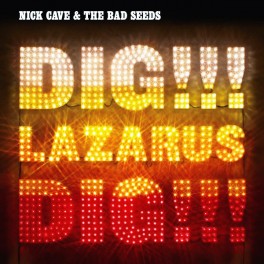 Maximize

Display all pictures
Artist:
Nick Cave & The Bad Seeds
Title:
Dig, Lazarus, Dig!!!
Catalog Number:
LPSEEDS14
Label:
Mute Records
Reissued by:
Mute Records
Barcode:
5414939711411
Original release year:
2008
Reissue year:
2014
Number of discs:
2
Revolutions per minute:
33⅓ rpm
Disc size:
12"
Vinyl Weight Grade:
180gr
Extras:
Download Code
Total Item Weight:
572gr
Pressing country:
Germany
For Market Release in:
EU
Added to catalog on:
May 31, 2015
Note:
Never eligible for any further discounts
Vinyl Gourmet Club:
No
Fourteen classic Nick Cave & The Bad Seeds albums have been made available for the first time on heavyweight 180g vinyl. Each album has been re-mastered (overseen by Mick Harvey, former Bad Seed and founder member), and all album cover artwork reflects the original release. These reissues have excellent quality concerning mastering and pressing, not to be missed.
The Bad Seeds is an ongoing mission for Nick Cave and his confreres. Last seen out in public under the gleeful guise of Grinderman, a no-nonsense rock 'n' roll excuse to "head down to the basement and shout," Nick Cave And The Bad Seeds returned in 2008 and hit the elevator button straight back up to the cerebral penthouse suite with their fourteenth album, Dig!!! Lazarus Dig!!!
"A hemorrhaging of words and ideas," is how Cave describes the follow-up to 2004's gloriously compendious Abattoir Blues/The Lyre of Orpheus double LP. "Grinderman was deliberately spare and the concepts were pretty simple," he explains. "With Dig!!! Lazarus Dig!!! we allowed ourselves to get expansive." That's no understatement. Dig!!! Lazarus Dig!!! is elusive, allusive and a dizzying narrative that unrolls Western civilization from Homer to Freud, the Bible to the Beats, fitting in its own cast of mythical characters along the way.
Little Janie and the sinister Mr. Sandman lock into a grim dance on "Today's Lesson," a blast of sexual politics crammed into one nasty rock 'n' roll fable; the roaming spirits of "Albert Goes West" go on an interstate rampage through psychotic episodes and dive bar beers; while poor Lazarus finds himself lost and alone on the title track's dense compression of New Testament miracles, Victorian spiritualism and New York decadence.
Then there's the pyrotechnic rant "We Call Upon The Author (To Explain)," which subtly and self-mockingly sets Cave The Songwriter in the dock, challenges God to account for himself and sets a literary feud ("Bukowski was a jerk! Berryman was best!") to an irresistible beat.
Track Listing:
01. Dig, Lazarus, Dig!!!
02. Today's Lesson
03. Moonland
04. Night of the Lotus Eaters
05. Albert Goes West
06. We Call Upon the Author
07. Hold On to Yourself
08. Lie Down Here (And Be My Girl)
09. Jesus of the Moon
10. Midnight Man
11. More News from Nowhere
Click here to listen to samples on AllMusic.com ♫