Joe Bonamassa Muddy Wolf at Red Rocks 3LP 180g Vinyl + Download Provogue Records Optimal 2015 EU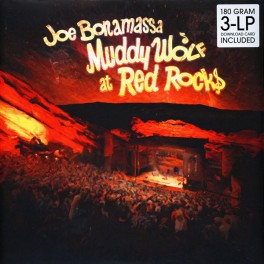 Maximize

Display all pictures
Artist:
Joe Bonamassa
Title:
Muddy Wolf at Red Rocks
Catalog Number:
PRD 7457 1
Label:
Provogue Records
Barcode:
819873011552
Original release year:
2015
Number of discs:
3
Revolutions per minute:
33⅓ rpm
Disc size:
12"
Vinyl Weight Grade:
180gr
Extras:
Download Code
Total Item Weight:
732gr
Pressing country:
Germany
For Market Release in:
EU
Added to catalog on:
May 30, 2015
Note:
Not eligible for any further discounts
Joe Bonamassa's new album Muddy Wolf at Red Rocks features his incredible concert from August 31, 2014 which took place at the famous and absolutely gorgeous Red Rocks Amphitheatre. The show is a spectacular celebration of the music of Muddy Waters and Howlin' Wolf, featuring many of the two blues legends' greatest songs and a few Bonamassa classics.
3 LP Gatefold Cover
Pressed on 180 Gram Vinyl
Pressed at Optimal Media in Germany
Includes code to download entire album
Material for the show was primarily sourced from the catalogs of Howlin' Wolf, one of the most influential Chicago bluesmen of all time, known for his deep, scratchy voice, and Muddy Waters, considered the "father of modern Chicago blues" and a major inspiration for the British blues explosion of the 1960s, a genre that Bonamassa grew up with and that influences his own music to this day. This album is not to be missed!

"Joe Bonamassa sounds thrilled to be digging in to these tunes, several of which aren't standard selections, and that's what makes Muddy Wolf at Red Rocks a cut above the standard Bonamassa live albums." - Stephen Thomas Erlewine, All Music

2015 live release from the blues guitarist, a tribute to blues legends Muddy Waters and Howlin' Wolf. As Joe Bonamassa approaches his 26th year as a professional musician, he continues to blaze a remarkably versatile artistic trail, and amass an authentic, innovative and soulful body of work. Bonamassa's career began onstage opening for B.B. King in 1989, when he was only 12 years old. Today, he is hailed worldwide as one of the greatest guitar players of his generation, and is an ever-evolving singer-songwriter who has released 15 solo albums in the last 13 years, all on his own label. There s a case to be made that Joe Bonamassa, like another star who shared the same initials, is the hardest working man in show business.
Track Listing:

LP 1 Side A
1. "We Went Down To the Mississippi Delta..."
2. Muddy Waters Talking
3. Tiger In Your Tank
4. I Can't Be Satisfied
5. You Shook Me
6. Stuff You Gotta Watch

LP 1 Side B
1. Double Trouble
2. Real Love
3. My Home Is On the Delta
4. All Aboard

LP 2 Side C
1. Howlin' Wolf Talking
2. How Many More Years
3. Shake For Me
4. Hidden Charms
5. Spoonful

LP 2 Side D
1. Killing Floor
2. Evil Is Going On
3. All Night Boogie (All Night Long)

LP 3 Side E
1. Hey Baby (New Rising Sun)
2. Oh Beautiful!
3. Love Ain't A Love Song
4. Sloe Gin

LP 3 Side F
1. The Ballad of John Henry
2. Mississippi Heartbeat (Opening Title)
3. Muddy Wolf (Credits)
Click here to listen to samples on AllMusic.com ♫