The Amazing Bud Powell The Scene Changes LP 180g Vinyl 33rpm Music Matters Limited Edition Blue Note US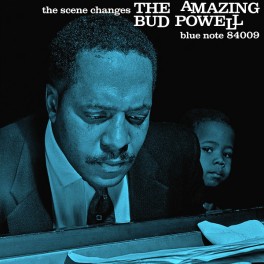 Maximize
Artist:
Bud Powell
Title:
The Scene Changes
Catalog Number:
MMBST-84009
Label:
Blue Note
Reissued by:
Music Matters
Barcode:
693692999334
Original release year:
1959
Reissue year:
2015
Number of discs:
1
Revolutions per minute:
33⅓ rpm
Disc size:
12"
Vinyl Weight Grade:
180gr
Limited Edition:
Yes
Total Item Weight:
495gr
Pressing country:
USA
For Market Release in:
USA
Added to catalog on:
May 28, 2015
Collection:
Music Matters Blue Note 33rpm Series
Note:
Never eligible for any further discounts
Vinyl Gourmet Club:
Yes
From Music Matters impressive 33rpm Reissue Series, one of the best Blue Note titles and memorable Bud Powell session recorded by Rudy Van Gelder. Audiophile mastering from Original Analog Master Tapes by Kevin Gray at Cohearent Audio on 33rpm 180 gram virgin vinyl pressed at RTI and presented in a luxurious gatefold cover with stunning high resolution session photos.

Limited Edition of Only 3500 Copies
Cut from the Original Rudy Van Gelder Blue Note Master Tapes
Remastered by Kevin Gray at Cohearent Audio
100% Analog Mastering and Cutting
Pressed on 180 Gram Virgin vinyl at RTI USA
Deluxe gatefold cover with high resolution session photos
Bud Powell was one of those very few special innovators who permanently changed the way that his instrument is played in jazz. Prior to Powell's arrival on the scene, pianists kept time with their left hand, stating the beat by striding back and forth between bass notes and chords while their right played melodic variations. When Powell rose to prominence in 1945, his style was a revelation. He stated chords with his left-hand on an irregular basis as if he were a drummer hitting the bass drum while his right played rapid single-note lines like a horn player. This became the way to play jazz piano.

While Bud Powell's recordings of the 1950s could be erratic due to his personal problems, his greatest work was on Blue Note. The Scene Changes, recorded in 1958 with Paul Chambers and Art Taylor, is one of his finest recordings, featuring Powell at the peak of his powers. Powell is heard in prime form, playing one brilliant solo after another. He introduces such originals as "Cleopatra's Dream," "Danceland" and "Crossin' The Channel," showing that he was also a masterful composer. With its impeccable sound and often-stunning piano solos, The Scene Changes is a must for all Blue Note collectors.
Musicians:

Bud Powell, piano
Paul Chambers, bass
Art Taylor, drums

Track Listing:

1. Cleopatra's Dream
2. Duid Deed
3. Down With It
4. Danceland
5. Borderick
6. Crossin' The Channel
7. Comin' Up
8. Gettin' There
9. The Scene Changes
Click here to listen to samples on AllMusic.com ♫