Cliff Martinez Drive Original Motion Picture Soundtrack 2LP 180 Gram Splatter Vinyl 2017 EU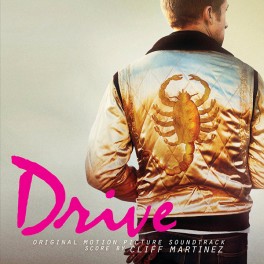 Maximize

Display all pictures
This memorable film by Nicolas Refn who received the Best Director Award at 2011's Cannes Festival, works like a very long video clip to one of the best soundtracks from recent years. Brilliant original score composed by Cliff Martinez with tracks from Kavinsky, Desire, College and The Chromatics had dramatic influence in the film success. One of the best releases from 2012, truly inspiring and cinematic work!
Vinyl Gourmet Best New Music 2012
Double LP 180 Gram Vinyl
Clear / Splatter Vinyl
Gatefold Cover
The soundtrack for Danish crime thriller Drive, composed and compiled by ex-Red Hot Chili Peppers and Captain Beefheart drummer Cliff Martinez (Sex, Lies & Videotape, Solaris), skillfully blends icy, Krautrock-inspired electronica with retro-'80s synth pop. Opening with "Nightcall," a moody, scene-chewing slab of Air and Röyksopp-induced electro-pop from French DJ Vincent Belorgay (aka Kavinsky), Drive rolls along on the strength of Martinez's spooky, Blade Runner-esque score, and cruises along effortlessly on a foundation of clock-like percussion, swooning synths worthy of an M83 album, and an independent spirit that tips its hat to nostalgia while careening over the guardrail into the future. - James Christopher Monger, All Music

The soundtrack features original music by Cliff Martinez ("The Lincoln Lawyer," "Traffic") with Eurosynth-styled songs by Kavinsky & Lovefoxx ("Nightcall"), The Chromatics ("Tick of the Clock"), Desire ("Under Your Spell"), College featuring Electric Youth ("A Real Hero"), and Rizlero Ortolani featuring Katyna Ranieri ("Oh My Love"). Rolling Stone Magazine named "Drive" the No. 1 movie of 2011.

The Drive soundtrack raced to the top of the iTunes album charts, hitting No. 4 within a week of its digital release and peaking at No. 35 on the Billboard Top 200. The soundtrack re-entered the charts in February 2012 when the film was released on DVD.

"One thing that was unique for me about this project was having songs exert such a strong influence on the score," Martinez says. "That helped to create a unified, one-size-fits-all, style of soundtrack. ... The '80s electronic pop style made a lot of sense to me. I knew that Nicolas (Refn, director) was in love with that sound and I saw a way to acknowledge it with vintage synth sounds and cover most of the dramatic food groups while referencing that style."

Track Listing:

01. Nightcall – Kavinsky & Lovefoxxx
02. Under Your Spell – Desire
03. A Real Hero – College feat. Electric Youth
04. Oh My Love – Riz Ortolani feat. Katyna Ranieri
05. Tick Of The Clock – The Chromatics
06. Rubber Head
07. I Drive
08. He Had A Good Time
09. They Broke His Pelvis
10. Kick Your Teeth
11. Where's The Deluxe Verison
12. See You In Four
13. After The Chase
14. Hammer
15. Wrong Floor
16. Skull Crushing
17. My Name On A Car
18. On The Beach
19. Bride Of Deluxe
Click here to listen to samples on YouTube.com ♫