The Three Blind Mice 45 Box Set 6LP 180 Gram Vinyl 45rpm Limited Edition Impex Records RTI USA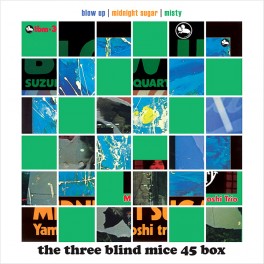 Maximize

Display all pictures
Artist:
The Three Blind Mice
Title:
TBM 45 Box
Catalog Number:
IMP6022-45
Label:
Three Blind Mice
Reissued by:
Impex Records
Barcode:
725543607515
Edition:
Limited Collectors Edition
Original release year:
1973
Reissue year:
2018
Number of discs:
6
Revolutions per minute:
45 rpm
Disc size:
12"
Vinyl Weight Grade:
180gr
Limited Edition:
Yes
Total Item Weight:
2200gr
Pressing country:
USA
For Market Release in:
USA
Added to catalog on:
May 22, 2015
Last modified / Restocked on:
April 1, 2023
Vinyl Gourmet Audiophile TOP 100:
Yes
Note:
Never eligible for any further discounts
Vinyl Gourmet Club:
No
Some of the best jazz from Japan, these three classic masterpieces from Isao Suzuki and Tsuyoshi Yamamoto, in Trio and Quartet formation, are the purest form of artistry, virtuosity and musical class all recorded with unmatched accuracy and realism. These glorious analog recordings and stunning jazz sessions have been amazing audiences since 1973 and achieved highly sought after collector's items status.
Featured in Vinyl Gourmet Audiophile TOP 100
Limited Edition
45rpm 180 Gram Audiophile Vinyl
3 Classic Three Blind Mice Japan Albums on 6LP
New Deluxe Rigid Box
Mastered by Tohru Kotetsu
Cut by Kevin Gray at Cohearent Audio
Pressed at RTI, USA
Finally returning after a long and mysterious absence, Impex's re-pressing of the highly collectible Three Blind Mice 45 Box has been improved in almost every way: a full-cover box, newly rendered LP jackets with improved clarity and color, a deluxe four-color insert with session photos and brand new notes by noted radio personality and audiophile Tom Schnabel (Rhythm Planet / KCRW Los Angeles).

Mastered by Tohru Kotetsu and Kevin Gray, and pressed at RTI, this limited edition set will live up to and surpass all of your most demanding judgments. Just another way Impex Records is redefining definitive.

The Highly Anticipated, 180 Gram 45rpm Audiophile Vinyl Collector's Box Set containing three of the most sought-After titles from the acclaimed Three Blind Mice catalog; "Blow Up", "Midnight Sugar", and "Misty"; Six discs in all!

Isao Suzuki's Blow-Up is virtuosity and class all rolled up into one. A great combination of upbeat blues and mellow grooves! The album was awarded "Jazz of Japan" Award and the Jazz Disk Award of "Swing Journal" in 1973.

Touring with the Micky Curtis Band, Tsuyoshi Yamamoto had the chance to explore several international experiences that he would later use on his 1974 album, Misty. as he worked with this band in France, England and Switzerland. On "Midnight Sugar" the Tsuyoshi Yamamoto Trio plays two of Tsuyoshi's own blues improvisations followed by jazz ballads that became standards for the Trio. The combination of these titles is nothing but exceptional.

The Yamamoto Trio's Midnight Sugar was recorded March 1, 1974 at Aoi Studio, Tokyo. It earned the Best Engineering Award and Jazz Disk Award of Swing Journal in 1974. It is Yamamoto's unmistakable skill and his jazz feeling which adds that certain touch of liveliness and spontaneity and makes Midnight Sugar a unique experience. This Piano Trio will mesmerize you with this great collection of standards, superb musicianship and awesome sonics. You are sure to listen to this one over and over.

The Yamamoto Trio's Misty is a Stoned Cold Killer! A1 Reference Material!!! Misty earned both the "Best Engineering" Award and Jazz Disk Award of Swing Journal in 1974. Recorded at Aoi Studio, Tokyo, on August 7, 1974. Tsuyoshi Yamamoto is highly musical and his expressions natural, neither overly technical nor serious, his performance is relaxed and melodious.


Finally available again after an all-too-brief release by BoxStar Records in 2012, the Three Blind Mice 45-RPM Box is the highly desirable collection of three of Tee Fujii's most popular LPs (Misty, Midnight Sugar, and Blow Up) in one awesome package. You know the story: one pressing comes out and then *poof* they're gone. Never to be heard from again. Original preorders were never filled and when word got out how amazing these sides sounded, prices shot up online on eBay, et al. Due to our close affiliation with Three Blind Mice, dating back to the 1990's, we have worked dilligently to not only bring these audiophile classics back, but to do so in a super-deluxe way.

New 45rpm cuts by Kevin Gray at Cohearent Audio, preserving the original sonic magnificance while presenting the three LP sets in top-quality packaging. The jackets follow the original Cisco/TBM 45's of 2003 but have been cleaned up, clarified and color-corrected to original glory. The labels now match the accent color of the jackets. We have included a 4 page insert with archival photographs and a new essay by esteemed radio personality (and life-long audio enthusiasist) Tom Schnabel ("Rhythm Planet, KCRW 89.9, Los Angeles). Topping it all, literally, is a new lift-top box with black lining and special spot UV coating.

If you missed out on the opportunity to own this seminal set when first available, you now can treat your ears to the finest in Japanese jazz in a super-deluxe set that is sure to please. Don't miss out this time!
Blow-Up Musicians:

Isao Suzuki, bass & cello
Kunihiko Sugano, piano & Fender-piano
George Otsuka, drums
Takashi Mizuhashi, bass

Misty & Midnight Sugar Musicians:

Tsuyoshi Yamamoto, piano
Isoo Fukui, bass
Tetsujiro Obara, drums


Track Listing:

Album 1 - Blow Up:

Side A
1. Aqua Marine
2. Everything Happens To Me

Side B
1. Blow Up

Side C
1. Like It Is
2. I Can't Get Started

Side D
1. Low Flight

Album 2 - Midnight Sugar:

Side A
1. Midnight Sugar

Side B
1. I'm A Fool To Want You

Side C
1. The Nearness of You

Side D
1. It Could Happen To You
2. Sweet Georgia Blues

Album 3 - Misty:

Side A
1. Misty

Side B
1. Blues
2. Yesterdays

Side C
1. Honeysuckle Rose
2. Smoke Gets In Your Eyes

Side D
1. I Didn't Know What Time It Was
2. Angel Eyes
Click here to listen to samples on YouTube.com ♫