Nick Cave And The Bad Seeds Let Love In 180 Gram Vinyl LP +Download Mute Records 2015 Optimal EU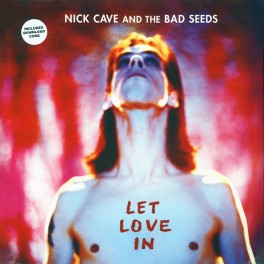 Maximize

Display all pictures
Artist:
Nick Cave & The Bad Seeds
Title:
Let Love In
Catalog Number:
LPSEEDS8
Label:
Mute Records
Reissued by:
Mute Records
Barcode:
5414939710810
Original release year:
1994
Reissue year:
2015
Number of discs:
1
Revolutions per minute:
33⅓ rpm
Disc size:
12"
Vinyl Weight Grade:
180gr
Extras:
Download Code
Total Item Weight:
291gr
Pressing country:
Germany
For Market Release in:
EU
Added to catalog on:
May 19, 2015
Note:
Never eligible for any further discounts
Vinyl Gourmet Club:
No
Let Love In, the eighth studio album by Nick Cave & the Bad Seeds, originally released in 1994 and their first studio album in over two years, preserving the same line-up as its two immediate predecessors: Henry's Dream (1992) and Live Seeds (1993). Nick Cave returned to familiar turf, choosing to conduct both demo and album sessions in their usual habitats of the UK and Australia.
Fourteen classic Nick Cave & The Bad Seeds albums have been made available for the first time on heavyweight 180g vinyl. Each album has been re-mastered (overseen by Mick Harvey, former Bad Seed and founder member), and all album cover artwork reflects the original release. These reissues have excellent quality concerning mastering and pressing, not to be missed.

"Let Love In, the eighth studio album by Nick Cave & the Bad Seeds, was originally released in 1994. Their first full-length studio album in over two years, Let Love In preserves the same line-up (Nick Cave, Mick Harvey, Blixa Bargeld, Conway Savage, Martyn Casey and Thomas Wydler) as established on its two immediate predecessors: Henry's Dream (1992), the band's troubled collaboration with producer David Briggs, and Live Seeds (1993), an interim concert compilation.

"The novelty of recording in America with a "name" producer now long behind them, Nick Cave & the Bad Seeds returned to familiar turf, choosing to conduct both demo and album sessions in their accustomed habitats of the UK and Australia. In September 1993, recording proper for Let Love In commenced at London's Townhouse III Studios (formerly The Who's Ramport studio, purpose-built for Quadrophenia), and the album was completed and mixed at Metropolis in Melbourne by the end of that same year.

"Producer/engineer and long-time confederate Tony Cohen was reinstated to preside over the sessions, and a veritable "Who's Who" array of Australian guest musicians were called in to lend a hand with the overdubs: former Birthday Party band mate Rowland S. Howard and Beasts of Bourbon singer Tex Perkins lent their backing vocals to "Do You Love Me," as did The Triffids' Dave McComb to "Lay Me Low"; while Warren Ellis makes his (uncharacteristically low profile) debut on a Bad Seeds recording, playing violin alongside Robin Casinader on Mick Harvey's sumptuous string arrangements for "Ain't Gonna Rain Anymore" and "Do You Love Me? Part 2."

"Artwork depicting the lyric sheet-festooned area around the piano gives some indication of the obsessive mood permeating the sessions, which Nick ascribes at least in part to the massive amounts of amphetamine being consumed during the sessions. "Tony was lost in his own world," muses Nick. "Head bent down over that mixing desk, not listening to what anybody had to say about anything, waving his hands his around and screaming abuse at us. We would go in there in the morning and come back in the evening and Tony would still be working on the same sound, talking to himself."

"As usual running hard against the grain of pop/rock culture in a year otherwise dominated by grunge, Let Love In nonetheless climbed to #12 on the 1994 UK charts and #8 in Australia, the highest positions occupied by a Nick Cave & the Bad Seeds album up to that point. "There are some really good songs on Let Love In, a bunch of really strong songs," affirms Cave. "We knew what we were going to do when we went into the studio with that record." - James Sclavunos


Track Listing:

Side A
1. Do You Love Me?
2. Nobody's Baby Now
3. Loverman
4. Jangling Jack
5. Red RIght Hand

Side B
1. I Let Love In
2. Thirsty Dog
3. Ain't Gonna Rain Anymore
4. Lay Me Low
5. Do You Love Me? (Part 2)
Click here to listen to samples on AllMusic.com ♫