John Coltrane A Love Supreme 2LP 45rpm 200g Vinyl Analogue Productions Kevin Gray Audiophile QRP USA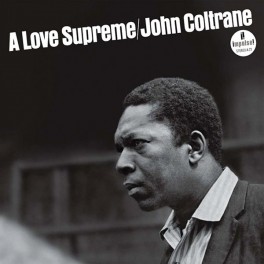 Maximize
Analogue Productions audiophile reissue mastered by Kevin Gray at AcousTech from Analog Tapes and cut at 45rpm. This iconic Coltrane LP sounds with amazing clarity and resolution exposing like never before the true dimension of this masterpiece and the soul of its creator. Deluxe extra thick cardboard gatefold cover houses this new 200gr Quality Records Pressing.
Rolling Stone 500 Greatest Albums of All Time Rated 47/500
Featured in Vinyl Gourmet Audiophile TOP 100
Limited Edition
Double LP 45rpm on 200g Vinyl
Pressed at QRP USA
Deluxe Gatefold Cover
All Analog Audiophile Mastering by Kevin Gray
Right from the very first hearing, absolutely every single jazz critic shared the same opinion - whether trained musicians or not, true or would-be jazz expert: A Love Supreme is John Coltrane's most important recording. And the rave reviews which appeared in the magazines Downbeat, Jazz Hot, Jazz Podium and Swingjournal reflected this: critics all over the world, in America, Europe and Japan recognized that Coltrane's deep religious belief had influenced both his approach to life and his music-making. It not only enabled him to express himself with great intensity but also lent him the necessary inner peace to conceive a work of almost 40 minutes in length and to lead his quartet along the same path as himself.
"...As good as the original Impulse pressing sounds, Analogue Productions' release will leave lovers of this record pinned to their seats. The music is simply and stunningly 'there.'" - Wayne Garcia, The Absolute Sound
Musicians:

John Coltrane, tenor saxophone
Jimmy Garrison, bass
Elvin Jones, drums
McCoy Tyner, piano
Track Listing:

1. A Love Supreme, Pt. 1 "Acknowledgement"
2. A Love Supreme, Pt. 2 "Resolution"
3. A Love Supreme, Pt. 3 "Pursuance / Psalm"
Click here to listen to samples on AllMusic.com