King Crimson Live at the Orpheum LP 200 Gram Vinyl Limited Edition Gatefold Robert Fripp DGM 2015 EU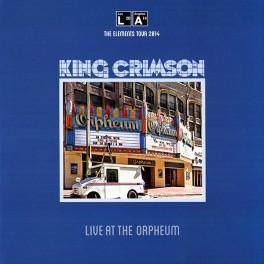 Maximize

Display all pictures
Artist:
King Crimson
Title:
Live at the Orpheum
Catalog Number:
DGMLV1
Label:
Discipline Global Mobile
Barcode:
633367784612
Original release year:
2015
Number of discs:
1
Revolutions per minute:
33⅓ rpm
Disc size:
12"
Vinyl Weight Grade:
200gr
Limited Edition:
Yes
Total Item Weight:
366gr
Pressing country:
EU
For Market Release in:
EU
Added to catalog on:
April 18, 2015
Note:
Limited Eligibility for Discounts
Vinyl Gourmet Club:
No
The somewhat unexpected 2014 King Crimson tour was a huge success and Live at the Orpheum is the first offering for those who were unable to attend. The band reinvented itself once again with a combination of new and returning players and the set list consisted mostly of tunes that had not been performed live since the 1970s, if at all. The surprising factor was the three-drummer front line...
Limited Edition
200 Gram Audiophile Vinyl
Gatefold Cover
Released to coincide with the 46th anniversary of King Crimson's formation in January 1969, Live At The Orpheum comprises performances from the band's critically acclaimed, sold-out 2014 US tour. 41 minutes of live material from the new seven piece King Crimson line-up, including classics such as Starless, Sailor's Tale, and The Letters.

King Crimson has performed, recorded and released material in its own inimitable manner for the past 46 years. As the band enters its 47th year of operation in 2015, the occasion is marked with the first release culled from the band's Autumn 2014 US tour.

Comprised of 41 minutes of material by the newest incarnation of the band fronted by the line-up's formidable three drummer setup, Live At The Orpheum has been mixed from 24bit multi-track performances recorded at the band's two concerts at the Los Angeles venue. Featuring a mixture of new and old King Crimson material - some being performed live for the first time - the album makes an ideal recorded debut for the septet.

For those who traveled from all over the world to see the US shows, it's an opportunity to relive the power, precision and sheer musicality of the concerts. For those who couldn't attend but wanted to, it's an opportunity to hear why the concerts generated such excitement.


Musicians:

Robert Fripp (guitar)
Jakko Jakszyk (guitar, vocals)
Tony Levin (bass, vocals)
Mel Collins (saxophone, flute)
Pat Mastelotto (drums)
Gavin Harrison (drums, percussion)
Bill Rieflin (drums, percussion)


Track Listing:

Side A
1. Walk On: Monk Morph Chamber Music
2. One More Red Nightmare
3. Banshee Legs Bell Hassle
4. The ConstruKction of Light
5. The Letters
Side B
1. Sailor's Tale
2. Starless