Dave Brubeck Trio & Gerry Mulligan Compadres Live In Mexico LP 180g Vinyl Speakers Corner Pallas EU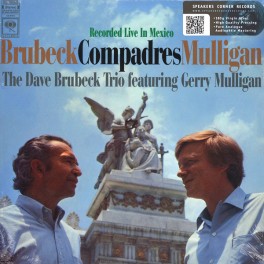 Maximize
Artist:
Dave Brubeck
Title:
Compadres
Catalog Number:
CS 9704
Label:
Columbia
Reissued by:
Speakers Corner
Barcode:
4260019714787
Original release year:
1968
Reissue year:
2014
Number of discs:
1
Revolutions per minute:
33⅓ rpm
Disc size:
12"
Vinyl Weight Grade:
180gr
Total Item Weight:
324gr
Pressing country:
Germany
For Market Release in:
EU
Added to catalog on:
April 18, 2015
Note:
Not eligible for any further discounts
Vinyl Gourmet Club:
Yes
To this day, the typical sound coloring of the Dave Brubeck Quartet is quite distinctive and unmistakable thanks to Paul Desmond's alto saxophone. But Gerry Mulligan's low-pitched horn and his restrained swing offers an interesting and different enough perspective to make one want to listen to these somewhat less popular but very worthwhile recordings by the Quartet.
Pure 100% Analog Mastering from Analog Tape
Audiophile 180 Gram Virgin Vinyl
Pressed at Pallas in Germany
The Quartet's concert tour of Mexico's major cities in 1968 was a great success and so Brubeck's recording company had no qualms in making live recordings of the group – complemented by bassist Jack Six and drummer Alan Dawson. Themes from indigenous folk music were skillfully coupled with new compositions and the Compadres LP with its concert excerpts was in great demand and became a top hit.

Produced by Teo Macero and recorded live in Mexico by John Guerriere and Russ Payne - this carefully remastered new pressing of the aptly named Compadres from Speakers Corner - is a great reminder of the artistry of these two jazz giants and a rewarding snapshot of their chemistry and admiration for one another.
"This fine LP was the debut of Brubeck's new Quartet, a group featuring baritonist Gerry Mulligan, bassist Jack Six and drummer Alan Dawson. Recorded live in Mexico, the album (unlike the previous Bravo! Brubeck which mostly stuck to traditional folk melodies) has three originals apiece from Brubeck and Mulligan, although the most memorable pieces are the two standards "Adios, Mariquita Linda" and "Amapola." This enjoyable set showed that for Brubeck there was life after Paul Desmond." - Scott Yanow, All Music


Musicians:

Dave Brubeck (piano)
Gerry Mulligan (baritone saxophone)
Jack Six (bass)
Alan Dawson (drums)

Track Listing:

1. Jumping Bean
2. Adis, Mariquita Linda
3. Indian Song
4. Tender Woman (Tierna Mujer)
5. Amapola
6. Lullabye De Mexico (Lullabye Of Mexico)
7. Sapito
8. Recuerdo (Remembrance)