Decca Wiener Philharmoniker The Orchestral Edition 6LP 180 Gram Vinyl Numbered Limited Edition Box Set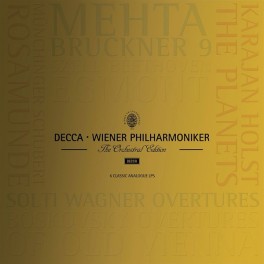 Maximize

Display all pictures
Artist:
Wiener Philharmoniker
Title:
The Orchestral Edition
Catalog Number:
478 7464
Label:
Decca
Reissued by:
Decca
Barcode:
028947874645
Edition:
Deluxe Edition
Original release year:
2015
Reissue year:
2015
Number of discs:
6
Revolutions per minute:
33⅓ rpm
Disc size:
12"
Vinyl Weight Grade:
180gr
Limited Edition:
Yes
Numbered Edition:
Yes
Total Item Weight:
2650gr
Pressing country:
Holland
For Market Release in:
EU
Added to catalog on:
March 22, 2015
Shipping Restriction:
In Store Pickup Only
Note:
Not eligible for any further discounts
SPECIAL ORDER: Not available to order online, please contact us for more information about available payment options and shiping cost.

Decca The Orchestral Edition is a luxurious and authoritative 6LP orchestral and concerto set, celebrating one of the world's great orchestras and their 64-year relationship with Decca Classics. This unique limited edition 180 Gram LP pressings set features six outstanding Decca / Vienna Philharmonic recordings, newly presented in a high quality luxury box.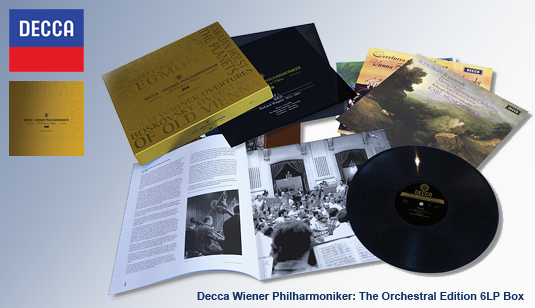 Limited Edition
Numbered Edition
Limited to Only 2000 Numbered Copies
180 Gram Vinyl 6LP Box Set
Original LP front and back artwork reproductions
Housed in luxury gold-wrap lift-off LP box
Full-color booklet in English, German, and Japanese
Includes full recording information, articles, and forewords
Lacquers cut by Sean Magee at Abbey Road Studios
Pressed at Record Industry in Holland
The Orchestral Edition is a luxurious and authoritative 6LP orchestral and concerto set, celebrating one of the world's great orchestras and their 64-year relationship with Decca Classics.

Over the course of nearly half a century, this partnership was the catalyst for standard-setting pioneer work in the field of recording techniques on the part of DECCA and provides an artistic documentation of numerous recording firsts and musical milestones and rarities. A document of a label-orchestra relationship, of famous venues and of the art of classical recording. Few labels can claim to be so associated with a city as inextricably as Decca is with Vienna. No history of classical recordings would be complete without a chapter documenting how both Decca and the WP worked to perfect the art of recording in the city's great concert halls, most notably in the famous Sofiensaal.

This numbered, limited edition set features original LP front and back covers. The cover art is in the style of the box set. It comes housed in a luxury gold-wrap lift-off LP box. Also included is a full-color booklet in English (English, German, and Japanese) including full recording information, articles by Silvia Kargl of the Wiener Philharmoniker Historisches Archiv and by long-term Decca producers Christopher Raeburn, Erik Smith and John Culshaw. Forewords from Paul Moseley, Managing Director of Decca and Clemens Hellsberg, Vorstand Wiener Philharmoniker. These pressings from Record Industries will be on 180g vinyl. The lacquers were cut by Sean Magee at Abbey Road Studios.


Musicians and Artists:

Wiener Philharmoniker
Sir Georg Solti, conductor (LP 1)
Herbert von Karajan, conductor (LP 2)
Zubin Mehta, conductor (LP 3)
Karl Münchinger, conductor (LP 4)
Willi Boskovsky, conductor (LP 5)
Pilar Lorengar, vocals (LP 6)
George Szell, conductor (LP 6)


Track Listing:
(Georg Solti / 1961)
LP 1 - Side 1:
Richard Wagner (1813-1883)
Overtures
1. Overture (Rienzi)
2. Overture (Der fliegende Hollander)
LP 1 - Side 2:
1. Overture (Tannhauser)
2. Bacchanale (Tannhauser / Act 1)
(Herbert von Karajan / 1961)
LP 2 - Side 1:
Gustav Holst (1874-1934)
The Planets
1. I. Mars, the Bringer of War
2. II. Venus, the Bringer of Peace
3. III. Mercury, the Winged Messenger
4. IV. Jupiter, the Bringer of Jollity
LP 2 - Side 2:
1. V. Saturn, the Bringer of Old Age
2. VI. Uranus, the Magician
3. VII. Neptune, the Mystic
(Zubin Mehta / 1965)
LP 3 - Side 1:
Anton Bruckner (1824-1896)
Symphony No.9
1. I. Feierlich. Misterioso
2. II. Scherzo (Bewegt lebhaft) - Trio (Schnell) - Scherzo da capo
LP 3 - Side 2:
1. III. Adagio (Langsam, feierlich)
(Karl Münchinger / 1974)
LP 4 - Side 1:
Franz Schubert (1797-1828)
Rosamunde
1. Overture
2. Entr'acte No.1
3. Ballet Music No.1 - Andante un poco assai
4. Entr'acte No.2
LP 4 - Side 2:
1. Romance: "Der Vollmond strahlt auf Bergeshoh'n"
2. Chorus of Spirits: "In der Tiefe wohnt das Licht"
3. Entr'acte No.3 - Andantino
4. Shepherd's Melody
5. Chorus of Shepherds: "Hier auf den Fluren..."
6. Chorus of Huntsmen: "Wie lebt sich's so frohlich im Grunen"
7. Ballet Music No.2
(Willi Boskovsky / 1968)
LP 5 - Side 1:
Overtures of Old Vienna
1. Overture (J. Strauss II: Die Fledermaus)
2. Overture (Nicolai: The Merry Wives of Windsor)
LP 5 - Side 2:
1. Overture (Von Reznicek: Donna Diana)
2. Overture (J. Strauss II: Prinz Methusalem)
3. Overture (Heuberger: Der Opernball)
(Klausjürgen Wussow, George Szell / 1969)
LP 6 - Side 1:
Ludwig van Beethoven (1770-1827)
Egmont
1. Overture
2. I. Lied: "Die Trommel geruhret"
3. II. Zwischenakt: Andante
4. III. Zwischenakt: Larghetto
LP 6 - Side 2:
1. IV. Lied: "Freudvoll und leidvoll"
2. V. Zwischenakt: Allegro - Marcia
3. VI. Zwischenakt: Poco sostenuto e risoluto
4. VII. Clarchens Tod
5. VIII. Melodram: Suber Schlaf du kommst wie ein
6. IX. Siegessymphonie: Allegro con brio