Eric Clapton Slowhand LP 180 Gram Vinyl Half Speed 35th Anniversary Edition Metropolis Mastering EU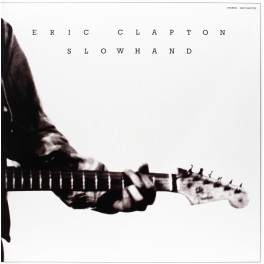 Maximize

Display all pictures
Artist:
Eric Clapton
Title:
Slowhand
Catalog Number:
600753407233
Label:
RSO
Reissued by:
Polydor
Barcode:
600753407233
Edition:
35th Anniversary Edition
Original release year:
1977
Reissue year:
2012
Number of discs:
1
Revolutions per minute:
33⅓ rpm
Disc size:
12"
Vinyl Weight Grade:
180gr
Total Item Weight:
338gr
Pressing country:
EU
For Market Release in:
EU
Added to catalog on:
March 13, 2015
Note:
Never eligible for any further discounts
Vinyl Gourmet Club:
No
Eric Clapton has been in the spotlight for close to fifty years and the portrait of his artistry is a complex one from guitar icon to songwriter of great sensitivity, as well as an interpreter of everything from blues and jazz to rock and country music. He has fashioned albums in many different styles and with many different themes, yet few have the sense of oneness that pervades Slowhand.
Rolling Stone 500 Greatest Albums of All Time Rated 325/500!
180 Gram Vinyl
Remastered from the Original Olympic Studios 1/4" Flat Analog Master Tapes
Remastered by Seth Foster & Kevin Reeves at Sterling Sound
Cut at 1/2 Speed by Miles Showell at Metropolis in London
Exact Reproduction of Original Gatefold Cover
Clapton had already established himself as a guitar legend by the time he released Slowhand. His heroin habit long behind him, Clapton's songwriting mastery was fully evident on the album, particularly in the stunning ballad "Wonderful Tonight." It fully actualized all of the potential hinted at in his earlier "Promises," and Clapton trusted himself enough to slow things down. Some of his most expressive guitar work can be found throughout this album, not just within "Wonderful." Ironically enough, Slowhand is probably best known for the hit "Cocaine." Built upon a simple repeated riff, the song had Clapton's trademark smooth voice with its wear around the edges, and yet another stellar guitar solo. Flashy runs and licks were never the most integral part of Clapton's catalog, his blues background being the primary source for his sound. Slowhand, with its phrasings, both guitar and vocal, established Clapton as the possessor of one of the most extensive vocabularies in rock.

Eric Clapton has fashioned albums in many different styles and with many different themes, yet few have the sense of oneness that pervades Slowhand. Slowhand was recorded at Olympic Studios in South West London in May 1977 and was produced by Glyn Johns. Released in November 1977, Slowhand was the most successful album of Clapton's '70s studio recordings. It reached No. 2 on the Billboard chart where it stayed for five weeks, spending a total of 74 weeks on the American album chart.

Slowhand features "Wonderful Tonight', "Lay Down Sally", and "Cocaine" - songs that are still heard regularly on radio and at Eric Clapton's live shows. So long after its release is a great recommendation and testimony to its place in Clapton's canon. The album includes cover versions of songs written by some of his favorite songwriters (JJ Cale, John Martyn, Don Williams, Arthur Crudup) along with original compositions by Eric Clapton.

"Slowhand was the nickname given to Clapton by the Yardbirds. On this quintessential Seventies album, he mixes candlelit love songs and guitar-hero riffs; "Cocaine" and "Wonderful Tonight" are the hits, but don't overlook "Next Time You See Her," a tender melody loaded with a death threat to a lover's suitor." Rolling Stone
Track Listing:

Side A:
1. Cocaine
2. Wonderful Tonight
3. Lay Down Sally
4. Next Time You See Her
5. We're All The Way

Side B:
1. The Core
2. May You Never
3. Mean Old Frisco
4. Peaches And Diesel
Click here to listen to samples on YouTube.com ♫