Mogwai Rave Tapes LP 180 Gram Vinyl + Download Rock Action Records 2014 EU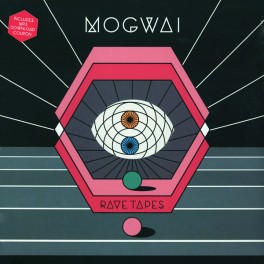 Maximize

Display all pictures
Artist:
Mogwai
Title:
Rave Tapes
Catalog Number:
ROCKACT80LP
Label:
Rock Action
Barcode:
5051083076814
Original release year:
2014
Number of discs:
1
Revolutions per minute:
33⅓ rpm
Disc size:
12"
Vinyl Weight Grade:
180gr
Extras:
Download Code
Total Item Weight:
296gr
Pressing country:
EU
For Market Release in:
EU
Added to catalog on:
March 13, 2015
Note:
Limited Eligibility for Discounts
Rave Tapes is the eighth studio album by Mogwai on their label Rock Action Records. Since their formation in 1995, the Scottish quintet has established itself internationally through a prolific recorded output and a commitment to touring that few of their peers can match. With Rave Tapes, Mogwai's mastery of sound and space is firmly at its apex.
Not everyone gets Mogwai, but that's what makes them great. Formed in Glasgow, Scotland, in 1995 by guitarist/vocalist Stuart Braithwaite, guitarist Dominic Aitchison, and drummer Martin Bulloch, the cosmic post-rock band creates a majestic, powerful sound where barely a word is spoken yet it is the antithesis of background music.

The album is a lustrous collection mined from the same quarry as its predecessors, wreathed in painterly textures underpinned by increasingly electronic beats. The haunted strains of "Deesh" channel the slow-burning ecstasy of their 2006 song "Auto Rock" (a key presence in the denouement of Michael Mann's film of Miami Vice that year), while the guitars on which Mogwai built their reputation remain, if less overtly belligerent this time round, as evidenced by the somnambulant opener "Heard About You Last Night" and the sonic scowl of "Hexon Bogon."

In the past year, the band have broadened their reach with the soundtrack to the acclaimed Canal+ supernatural drama series Les Revenants. As the show reached its climax on UK TV screens in July, Mogwai returned to their predecessor to Les Revenants, the 2007 soundtrack to Douglas Gordon and Philippe Pareno's film Zidane: A 21st-century Portrait, in sell-out performances with the band playing live while the film was projected above them.

Having barely had time to draw breath, the ever-restless band kicked off 2013 with the release of the Les Revenants EP, and wrote and recorded Rave Tapes at the band's Castle Of Doom studio in Glasgow, Scotland. Rave Tapes was recorded with Paul Savage, who also worked with the band on their 2011 album Hardcore Will Never Die, But You Will. The release of Rave Tapes will signal the beginning of a frantic year of live activity, including the group's maiden foray into Africa. Fasten your seatbelts.
Track Liskting:
01. Heard About You Last Night
02. Simon Ferocious
03. Remurdered
04. Hexon Bogon
05. Repelish
06. Master Card
07. Deesh
08. Blues Hour
09. No Medicine For Regret
10. The Lord Is Out Of Control
Click here to listen to samples on AllMusic.com ♫