Explosions In The Sky The Earth Is Not A Cold Dead Place 2LP 140g Vinyl Temporary Residence USA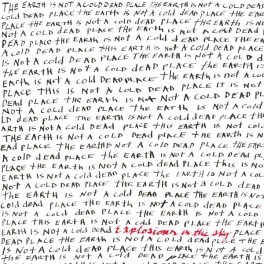 Maximize

Display all pictures
Artist:
Explosions In The Sky
Title:
The Earth Is Not A Cold Dead Place
Catalog Number:
TRR 61
Label:
Temporary Residence Limited
Barcode:
656605306117
Original release year:
2003
Number of discs:
2
Revolutions per minute:
33⅓ rpm
Disc size:
12"
Vinyl Weight Grade:
140gr
Total Item Weight:
421gr
Pressing country:
USA
For Market Release in:
USA
Added to catalog on:
March 5, 2015
Note:
Limited Eligibility for Discounts
Vinyl Gourmet Club:
No
The Earth Is Not A Cold Dead Place, Because You Are Listening, Because You Are Breathing, that's what you can read on the etching on side D of this epic double LP, a Post-rock masterpiece and one of the genre's most successful albums, Explosions In The Sky explore melancholic musical poetry with their distinctive sound from slow tempo settings to full blown rush of mountain moving emotions.
The vinyl release is excellent, mastered by John Golden at Golden Mastering USA. Most post-rock albums are very poorly represented when it comes to audio quality on digital media, that alone has turned a few music lovers away from this amazing music genre, it's really a much better experience to hear the full textures and dynamics of this music on vinyl. One of our all time favorite albums, sounding its best!
Hailing from the sultry metropolitan landscape of Austin, TX, Explosions In The Sky are some of the most sincere folks you will ever meet. Aside from being nice guys, they play some of the most passionate, powerful instrumental music you will ever hear. Equal parts romance and tragedy, their beautiful melodies have the tendency to ignite into head-spinning walls of noise. Easily one of the most intense live bands ever, their sound proves to be every bit as triumphant as their name implies.
"Explosions in the Sky's second effort takes a more studied, even lush approach to the literate chaos of their 2001 debut. But put on your sad sack thinking cap now, because Earth Is Not a Cold Dead Place is a contemplative and heady rush of masterful melancholia. Its six songs are multi-minute, slow motion workouts of gentle electric guitar plucks and subtle/sudden washes of percussion -- they're still instrumental, but as lyrical as anything in the indie rock universe. "Only Moment We Were Alone" turns on a simple, melancholy guitar figure, the drums shifting from insistent catch-up mode to a studied march built to introduce the next layered crescendo. Explosions in the Sky doesn't shift as suddenly or jarringly on Earth Is Not a Cold Dead Place; the quartet has applied more structural predictability this time out, but is still quick about setting the sad butterflies in your stomach to fluttering. "Memorial" is the album's meditative heart. It begins so quietly, reduced to brittle landscapes of tone. Lightly chiming guitars drift in, like the echoes of church bells off in narrow city streets. Then, like each of the album's movements, it surges forward in a rush, like the overtures of Sonic Youth separated, dried, and ultimately lengthened in the blistering Texas sun. The final blast of distortion and staccato drumming is Earth at full bittersweet bluster. "Your Hand in Mine" ends things as they began, with a pair of determined guitars picking out a melody that's both pretty and pretty damn heartbreaking." - Johnny Loftus, All Music
"Picking up where Those Who Tell the Truth Shall Die, Those Who Tell the Truth Shall Live Forever left off, The Earth Is Not a Cold Dead Place begins as a flickering twinkle that soon grows to a blinding light. This new sense of hope is the defining characteristic of this record, and ultimately the journey that their music takes us on. Immeasurably more dramatic and dynamic than their last album, The Earth Is Not a Cold Dead Place takes its shape not in the unexpected cacophony that had become the band's trademark, but in the infinitely deeper caverns of the human soul. With a soft heartbeat-like thump that grows stronger by the minute, the band is now closer than ever to replicating the simple movements that, when strung together, form the unpredictably complex machine that is the human body. Words simply cannot do this the justice that it deserves. It goes so far beyond elementary comparisons to other bands. The answer is somewhere between your head and your heart, and indeed, that is not a cold dead place."

"These are tunes that twinkle and thunder like exploding stars, and show that there are still infinite possibilities in two guitars, bass and drums." - The Guardian
Track Listing:
01. First Breath After Coma 9:33
02. The Only Moment We Were Alone 10:14
03. Six Days At The Bottom Of The Ocean 8:43
04. Memorial 8:50
05. Your Hand In Mine 8:17
Click here to listen to samples on YouTube.com ♫