Madonna Confessions On A Dance Floor 2LP Pink Vinyl Limited Edition Gatefold Cover 2005 EU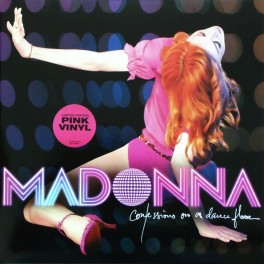 Maximize
Artist:
Madonna
Title:
Confessions On A Dance Floor
Catalog Number:
9362-49460-1
Label:
Warner
Barcode:
093624946014
Edition:
Colored Vinyl
Original release year:
2005
Reissue year:
2006
Number of discs:
2
Revolutions per minute:
33⅓ rpm
Disc size:
12"
Vinyl Weight Grade:
140gr
Limited Edition:
Yes
Total Item Weight:
478gr
Pressing country:
EU
For Market Release in:
EU
Added to catalog on:
March 5, 2015
Note:
Never eligible for any further discounts
Vinyl Gourmet Club:
No
Here's a Vinyl Gourmet Guilty Pleasure, probably Madonna's best and most exciting album, guaranteed to keep your feet dancing and to put a smile on your face, it brings back early Disco with clever sampling and really strong song writing, resulting in a memorable quite physical listening experience, even more so on this great sounding Limited Edition pink Vinyl double LP. Be guilty, with pleasure! This is a 2006 Limited Edition release... it will not be around forever, get it and enjoy it while it lasts, I don't think we'll be hearing Madonna any better than this...
Limited Edition
Pink Vinyl
Gatefold Cover
"On a purely sonic level, Confessions does its job: this is shimmering music falling just short of sexy, a perfect soundtrack for pitch-black nights." - Stephen Thomas Erlewine, All Music

"I want people to jump out of their seats." - Madonna

On Confessions On A Dance Floor, Madonna, the most popular and significant female artist in pop music, returns unapologetically to her roots. A stunning blend of musical styles with one foot in early disco (a la Giorgio Moroder) and the other pointed toward the future, Confessions On A Dance Floor "is all about having a good time straight through and non-stop," says the Material Mom, who co-wrote and co-produced every track. For Madonna and music fans everywhere, the all-dance, no-ballad Confessions On A Dance Floor is a welcome guilty pleasure.
"Confessions on a Dance Floor is the tenth studio album by American singer-songwriter Madonna. It was released on November 11, 2005 by Warner Bros. Records. A complete departure from her previous studio album American Life (2003), the album includes influences of 1970s and 1980s disco, as well as modern-day club music. Initially, she began working with Mirwais Ahmadzaï for the album, but later felt that their collaboration was not going in the direction she desired. Madonna took her collaboration with Stuart Price who was overviewing her documentary I'm Going to Tell You a Secret. The album was mainly recorded at Price's home-studio where Madonna spent most of her time during the recordings.

Musically, the album is structured like a DJ's set. The songs are sequenced and blended together so that they are played continuously without any gaps. The title arrived from the fact that the album tracklisting consists of light-hearted and happy songs in the beginning, and progresses to much darker melodies and lyrics describing personal feelings and commitments. Songs on the album use samples and references of music by other dance-oriented artists like ABBA, Donna Summer, Pet Shop Boys, Bee Gees and Depeche Mode, as well as Madonna's earlier work in the 1980s.

Contemporary critics lauded the album calling it a return to form for Madonna, ranking it alongside her best albums. Madonna was honored with a Grammy Award for Best Electronic/Dance Album in 2007, as well as International Female Solo Artist at the 2006 BRIT Awards. Commercially, the album peaked at number one in 40 countries, earning a place in the 2007 Guinness Book of World Records for topping the record charts in the most countries. Despite being available for sale during the last one and a half months of 2005, the album's success was such that it still ranked as the world's sixth biggest-selling of the year. Confessions on a Dance Floor has sold an estimated 12 million copies worldwide.

Four singles were released from the album. "Hung Up", the lead single, became Madonna's most successful single worldwide by topping the charts in a total of 41 countries. It was followed by "Sorry" which was another chart topping success. It became Madonna's twelfth number-one single in the United Kingdom. "Get Together" and "Jump" were released as the third and fourth singles respectively, both becoming top-ten hits in several countries. To promote the album, Madonna embarked on a small promotional tour titled Hung Up Promo Tour. The album was further promoted on the 2006 Confessions Tour, which became the highest grossing tour ever for a female artist at that time."

Track Listing:

01. Hung Up
02. Get Together
03. Sorry
04. Future Lovers
05. I Love New York
06. Let It Will Be
07. Forbidden Love
08. Jump
09. How High
10. Isaac
11. Push
12. Like It Or Not
Click here to listen to samples on AllMusic.com ♫