Porcupine Tree Signify 2LP 180 Gram Vinyl Gatefold Cover Steven Wilson Remaster Kscope 2017 EU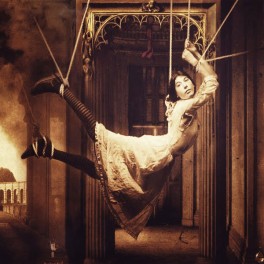 Maximize

Display all pictures
Artist:
Porcupine Tree
Title:
Signify
Catalog Number:
KSCOPE948
Label:
Delerium Records
Reissued by:
Kscope
Barcode:
802644894812
Original release year:
1996
Reissue year:
2017
Number of discs:
2
Revolutions per minute:
33⅓ rpm
Disc size:
12"
Vinyl Weight Grade:
180gr
Total Item Weight:
618gr
Pressing country:
Germany
For Market Release in:
EU
Added to catalog on:
June 29, 2017
Note:
Not eligible for any further discounts
Vinyl Gourmet Club:
No
Signify, released in 1996 by Porcupine Tree, was the first complete album they recorded as a full band, and fuses numerous rock and avant-garde styles, absorbing many influences but relying on none. Songs like Waiting and Dark Matter established the band as a highly respected force in the musical underground to become the frontline of today's Progressive Rock.
2016 Remaster by Steven Wilson
Double LP 180 Gram Vinyl
Pressed at Optimal Media in Germany
Gatefold Cover
Porcupine Tree started out as an in-joke between Steven Wilson and a friend (early recordings were purportedly the back catalogue of a fictional seventies supergroup "The Porcupine Tree" that Wilson created). Over 20 years later the group is selling out arenas across the world. Throughout this period they have evolved from a psychedelic solo studio project to one of the most revered live bands in the world, releasing 11 critically acclaimed albums, a host of singles and various re-mastered and re-mixed reissues.

The first single from the album, Waiting, entered the UK indie and UK national chart attracting airplay all over Europe. This double vinyl edition of the album is pressed on heavyweight (180gm) vinyl in a gatefold sleeve with printed inner sleeves.
The first proper album by the full band, Signify was the next great step forward for Porcupine Tree, a distinct advancement in how well the foursome could completely rock out as well as find its own narcotic style of ambient exploration. The title track signals intentions clearly after the fragmentary sample-collage start of "Bornlivedie" kicks things off. Based on a storming riff from Wilson, the Edwin/Maitland team provide a crisp, driving beat, while Barbieri throws some intriguingly aggressive keyboard work, nervy and unsettling, to offset the calmer parts he also adds to fill things out. Everyone gets to show a little bit of individual flair as the album progresses. Edwin punctuates the epic surge of "Sleep of No Dreaming" with some plucked double bass as well as electric, while Maitland himself takes over on (wordless) vocals and full composition for "Light Mass Prayers," a minimal, entrancing piece.
One thing that hasn't noticeably changed much is Wilson's general songwriting and ear for arrangements -- good, but there's little in the way of distinct change in style, leaving it to the performance of the band as a whole to provide the album's own unique stamp. For all that Wilson may once again be singing obliquely on the pressures and nature of end-of-century life, he still does so in an engagingly left-of-center way. Consider the portrait of an incipient Internet/cyberpunk world in "Every Home Is Wired" or the snap-or-not? dilemma of "Darkmatter," which closes the album on a subtly tense note, besides being the best song Peter Gabriel-era Genesis never wrote. The often gripping instrumental pieces which are as much a band trademark as anything else appear throughout, including the combination drift and charge of "Idiot Prayer," littered with intriguingly curious samples, and the amusingly titled, hellfire and brimstone preacher-punctuated "Intermediate Jesus." Ned Raggett, All Music
Track Listing:


01. Bornlivedie
02. Signify
03. Sleep Of No Dreaming
04. Pagan
05. Waiting (Phase One)
06. Waiting (Phase Two)
07. Sever
08. Idiot Prayer
09. Every Home Is Wired
10. Intermediate Jesus
11. "Light Mass Prayers"
12. Dark Matter
Click here to listen to samples on YouTube.com ♫