The Eagles Hotel California 180 Gram Vinyl LP Gatefold Cover Analog Audiophile Pressing Kevin Gray EU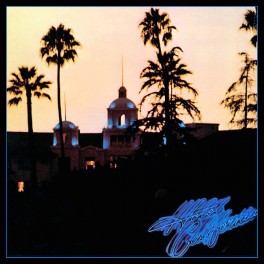 Maximize
Artist:
Eagles
Title:
Hotel California
Catalog Number:
8122-79915-1
Label:
Asylum Records
Reissued by:
Warner / Rhino
Barcode:
081227991517
Original release year:
1976
Reissue year:
2009
Number of discs:
1
Revolutions per minute:
33⅓ rpm
Disc size:
12"
Vinyl Weight Grade:
180gr
Total Item Weight:
418gr
Pressing country:
EU
For Market Release in:
EU
Added to catalog on:
February 8, 2015
Vinyl Gourmet Audiophile TOP 100:
Yes
The Eagle's most successful album, Hotel California also underscored the band's need to make a big statement. The title track represented the theme of paradise lost in California, and the band's most famous line 'You can check out any time you like, but you can never leave'. This is the album that came to define this Classic Rock 70's supergroup. Great all analog mastering by Kevin Gray!
Rolling Stone 500 Greatest Albums of All Time Rated 37/500
Album that won 2 Grammy Awards

Featured in Vinyl Gourmet Audiophile TOP 100



Mastered from the Original Analog Master Tapes
Cut by Kevin Gray at Acoustech Mastering
Pressed on 180 Gram Vinyl
All Analog Mastering
Gatefold Cover


This LP is currently Out Of Print, officially deleted by the label.


Hotel California was arguably the band's best single album - it was certainly the Eagles' biggest original disc - and it also underscored the band's need to make a big statement. The title tune reflected the album's theme of paradise lost in California, painting this picture with a musical arrangement that punctuated strumming guitars with dramatic drums, and perhaps the band's most famous lyric: "You can check out any time you like, but you can never leave." "New Kid in Town" was an equally fine albeit much more traditional Eagles ballad. "Life in the Fast Lane" aspired to hard rock but largely gunned its engine without taking off. The album that came to define the `70s supergroup.

The Eagles took 18 months between their fourth and fifth albums, reportedly spending eight months in the studio recording Hotel California. The album was also their first to be made without Bernie Leadon, who had given the band much of its country flavor, and with rock guitarist Joe Walsh. As a result, the album marks a major leap for the Eagles from their earlier work, as well as a stylistic shift toward mainstream rock. An even more important aspect, however, is the emergence of Don Henley as the band's dominant voice, both as a singer and a lyricist.

On the six songs to which he contributes, Henley sketches a thematic statement that begins by using California as a metaphor for a dark, surreal world of dissipation; comments on the ephemeral nature of success and the attraction of excess; branches out into romantic disappointment; and finally sketches a broad, pessimistic history of America that borders on nihilism. Of course, the lyrics kick in some time after one has appreciated the album's music, which marks a peak in the Eagles' playing. Early on, the group couldn't rock convincingly, but the rhythm section of Henley and Meisner has finally solidified, and the electric guitar work of Don Felder and Joe Walsh has arena-rock heft. In the early part of their career, the Eagles never seemed to get a sound big enough for their ambitions; after changes in producer and personnel, as well as a noticeable growth in creativity, Hotel California unveiled what seemed almost like a whole new band. It was a band that could be bombastic, but also one that made music worthy of the later tag of "classic rock," music appropriate for the arenas and stadiums the band was playing. The result was the Eagles' biggest-selling regular album release, and one of the most successful rock albums ever. - AMG

"In pursuit of note-perfect Hollywood-cowboy ennui, the Eagles spent eight months in the studio making Hotel California, polishing the vocals and guitars in take after take after take. As Don Henley recalled, "We just locked ourselves in. We had a refrigerator, a pingpong table, roller skates and a couple of cots. We would go in and stay for two or three days at a time." With guitarist Joe Walsh replacing Bernie Leadon, the band backed off from straight country-rock (glorious exception: "New Kid in Town") in favor of the harder sound of "Life in the Fast Lane." The highlight is the title track, a monument to the rock-aristocrat decadence of the day and a feast of triple-guitar interplay. "Every band has their peak," Henley said. "That was ours." - Rolling Stone


Track Listing:

1. Hotel California
2. New Kid In Town
3. Life In The Fast Lane
4. Wasted Time
5. Wasted Time (Reprise)
6. Victim of Love
7. Pretty Maids All In A Row
8. Try And Love Again
9. The Last Resort

Click here to listen to samples on AllMusic.com ♫