Talk Talk Spirit Of Eden LP 180 Gram Vinyl + Bonus DVD with High Resolution 24bit / 96kHz Audio EU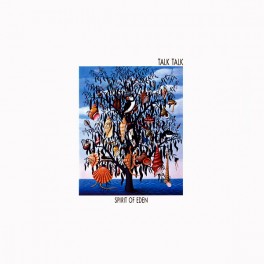 Maximize

Display all pictures
Artist:
Talk Talk
Title:
Spirit Of Eden
Catalog Number:
PCSDX 105
Label:
Parlophone
Reissued by:
Parlophone
Barcode:
5099932778717
Original release year:
1988
Reissue year:
2012
Number of discs:
1
Revolutions per minute:
33⅓ rpm
Disc size:
12"
Vinyl Weight Grade:
180gr
Extras:
DVD 24bit / 96kHz Audio
Total Item Weight:
324gr
Pressing country:
Germany
For Market Release in:
EU
Added to catalog on:
February 5, 2015
Note:
Never eligible for any further discounts
Vinyl Gourmet Club:
No
Spirit Of Eden is Talk Talk's surprising and transcendent fourth album finding the band leaving the pop electronics in favor of more complex organic melodies built largely around mood and atmosphere. Drawing from jazz and ambient influences the album features six extended tracks dynamic in their space and context, impressively painted by the voice of singer and songwriter Mark Hollis.
180 Gram Audiophile Vinyl
Cut from original Analog Master Tapes

*

Pressed at Optimal Media in Germany
Bonus DVD with full album on 24bit / 96 kHz Audio
DVD includes Bonus Track "John Cope"
Spirit of Eden is the fourth album by the English band Talk Talk, released in 1988. Critical reception on release was mixed, and it was not a commercial success; still, its reputation has improved over the years, and it is now seen by some critics as influential to post-rock, a music genre that developed in Britain and North America in the 1990s. Numerous publications have retrospectively named it one of the best albums of the 1980s.

The songs were written by Mark Hollis and Tim Friese-Greene, and performed by numerous musicians using a diverse combination of instruments. The album developed from a lengthy recording process at Wessex Studios, London during 1987 and 1988: often working in darkness, the band recorded many hours of improvised performances, edited them down heavily, then arranged the remaining pieces into an album. The end product includes elements of rock, jazz, classical, and ambient music. The album, the fourth by the band, was released on the Parlophone record label, an imprint of EMI.

In 2008, Alan McGee of the Guardian wrote: "Spirit of Eden has not dated; it's remarkable how contemporary it sounds, anticipating post-rock, The Verve and Radiohead. It's the sound of an artist being given the keys to the kingdom and returning with art."

Critics often view Spirit of Eden as a departure from Talk Talk's previous albums. Compared to their 1986 hit The Colour of Spring, it was commercially unsuccessful. While upon release it received mostly mixed to negative reviews, it has been acknowledged as being an influence in the musical development of a number of later alternative rock musicians and subgenres.


English art-pop legends Talk Talk's classic albums The Colour of Spring (1986) and Spirit of Eden (1988) are being reissued on 180g heavyweight vinyl cut from the original analog master tapes, together with a DVD featuring the album delivered as a 96kHz/24 bit LPCM stereo mix. In addition, the accompanying DVDs for both albums also feature one extra bonus track. In the case of Spirit of Eden, included here is the B-side "John Cope".

Spirit of Eden is the transcendent fourth album from Talk Talk and it finds the band shelving the pop electronics in favor of more organic fare built largely around mood and atmosphere. Drawing on jazz and ambient influences, the album features six extended tracks dynamic in their space and warmth, impassioned majestically by the plaintive vocals of singer/songwriter Mark Hollis.
Track Listing:
01. The Rainbow
02. Eden
03. Desire
04. Inheritance
05. I Believe In You
06. Wealth
07. John Cope (DVD only)
Click here to listen to samples on AllMusic.com ♫
*This album was an analog recording but the mixing involved steps in the digital domain for editing that was transferred to the final Original Analog Master Tape used to cut the LP 100% analog just like it was produced in 1988.