Talk Talk The Colour Of Spring LP 180 Gram Vinyl + Bonus DVD with High Resolution 24bit / 96kHz Audio EU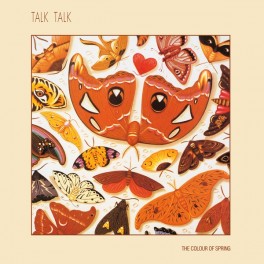 Maximize

Display all pictures
Artist:
Talk Talk
Title:
The Colour Of Spring
Catalog Number:
CX 3506
Label:
EMI
Reissued by:
Parlophone
Barcode:
5099932778519
Original release year:
1986
Reissue year:
2012
Number of discs:
1
Revolutions per minute:
33⅓ rpm
Disc size:
12"
Vinyl Weight Grade:
180gr
Extras:
DVD 24bit / 96kHz Audio
Total Item Weight:
306gr
Pressing country:
Germany
For Market Release in:
EU
Added to catalog on:
February 5, 2015
Note:
Never eligible for any further discounts
Vinyl Gourmet Club:
No
English art-pop legends Talk Talk's classic album The Colour of Spring (1986) reissued on 180g vinyl cut from the Original Analog Master Tapes, together with a DVD featuring the album on 24 Bit / 96kHz LPCM stereo that also includes an extra track, the B-side 'It's Getting Late In The Evening'. The Colour of Spring was the band's most successful album, one of the best albums of the 80's!
180 Gram Audiophile Vinyl
Cut from original Analog Master Tapes
Pressed at Optimal Media in Germany
Bonus DVD with full album on 24bit / 96 kHz Audio
DVD includes Bonus Track "Getting Late in the Evening"
The Colour of Spring is Talk Talk's third album and was released in 1986 in Germany, and then 1986 in other countries. It became the band's highest selling non-compilation studio album, reaching the Top 20 in numerous countries (topping the Dutch charts), including their homeland, where it reached No. 8 and stayed in the charts for 21 weeks. It did not quite match the sales of its predecessor in the United States, but was nonetheless their last album to enter the Billboard Top 200, reaching #58.

With its international hit "Life's What You Make It", Talk Talk expanded their fan base, and it earned the band the third of their three American hits, along with 1984's "It's My Life" and "Such a Shame".

Musically, The Colour of Spring was a major step away from the synthesised pop of early Talk Talk, with the focus on such songs as "Life's What You Make It", "Living in Another World" and "Give It Up". It had a sound described by the band as much more "organic" than their earlier records, with the improvisation that was to dominate on their later works already apparent in the recording process.

Pitchfork Media listed The Colour of Spring as 83rd best album of the 1980s.
Slant Magazine listed the album at #96 on its list of "Best Albums of the 1980s.

English art-pop legends Talk Talk's classic albums The Colour of Spring (1986) and Spirit of Eden (1988) are being reissued on 180g heavyweight vinyl cut from the original analog master tapes, together with a DVD featuring the album delivered as a 96kHz/24 bit LPCM stereo mix. In addition, the accompanying DVDs for both albums also feature one extra bonus track. In the case of Colour Of Spring, included here is the B-side "It's Getting Late In The Evening."

Talk Talk's third album The Colour of Spring remains the band's most successful, charting in multiple countries thanks to the international hit single "Life's What You Make It." Deviating from the synthesized pop of prior releases with more complex arrangements, elicit rhythms and hypnotic grooves, yet not as ambient in nature as subsequent works, The Colour Of Spring finds the band at an artistic/commercial happy medium and all the better for it!

"For many bands, transitional albums are most valuable for establishing context between distinct phases of a career arc. Talk Talk's The Colour of Spring, however, stands as one of the band's most satisfying standalone albums, even though it's a clear bridge between their origins in new wave and the post-rock of their later albums. Songs like 'Life's What You Make of It' and 'I Don't Believe in You' strike a perfect and often beautiful balance between Talk Talk's extraordinary gifts for memorable pop melodies with a newfound experimental bent that finds them replacing the synths and guitars of the era with flourishes of organ, sax, and even a children's choir." - Jonathan Keefe, Slant Magazine
Track Listing:

01. Happiness Is Easy
02. I Don't Believe In You
03. Life's What You Make It
04. April 5th
05. Side 2: In Another World
06. Give It Up
07. Chameleon Day
08. Time It's Time
09. It's Getting Late In The Evening (DVD only)
Click here to listen to samples on AllMusic.com ♫