Amiina Kurr 2LP 200 Gram Vinyl Deluxe Limited Edition DMM Direct Metal Mastering Sigur Rós EU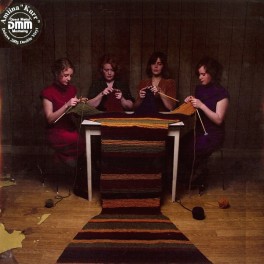 Maximize
Artist:
Amiina
Title:
Kurr
Catalog Number:
AMIINA3LP
Label:
Ever Records
Reissued by:
One Little Indian
Barcode:
5690351110302
Edition:
Deluxe Edition
Original release year:
2007
Reissue year:
2009
Number of discs:
2
Revolutions per minute:
33⅓ rpm
Disc size:
12"
Vinyl Weight Grade:
200gr
Limited Edition:
Yes
Total Item Weight:
552gr
Pressing country:
EU
For Market Release in:
UK
Added to catalog on:
February 3, 2015
Best known for a decade recording and performing live with Sigur Rós, Amiina was formed in the late 90's as a quartet of girls from Reykjavík College of Music to explore delicate sounds with strings and subtle electronica, setting the tone for very deep and sensorial Icelandic music experience. Amiina's debut album, Kurr flows in a strange, powerful place between sophistication and innocence.
Double LP
DMM Direct Metal Mastering cut
200 Grams Vinyl
Bonus track: "Hilli (At The Top Of The World)", the last recording of Lee Hazlewood
Originally a string quartet formed by four girls (Edda Rún Ólafsdóttir, Hildur Ársælsdóttir, María Huld Markan Sigfúsdóttir and Sólrún Sumarliðadóttir) at the Reykjavík College of Music in the late 1990s, amiina went on to cut its teeth as Sigur Rós' string section for the next decade.

In 1999 the quartet joined Icelandic band Sigur Rós on stage. The collaboration has continued ever since with amiina contributing strings to Sigur Rós' music on tours and in the recording studio on the albums ( ) , Takk and Með Suð... In 2004 amiina's first EP AnimaminA was released, followed by the Seoul single (2006), the album Kurr (2007), a Lee Hazlewood collaboration on a 7" vinyl Hilli (at the Top of...) (2008) and the limited release EP Re Minore (2009).

Amiina's debut album, Kurr (2007), was performed on a disparate jumble of instruments – musical saws, kalimbas, music boxes and seemingly anything that could be plucked, bowed or beaten on – resulting in a work that ebbed and flowed "in a strange, powerful place between sophistication and innocence," according to The Guardian.
Cover by Egill Kalevi Karlsson
Mastered by Graeme Durham
(Founding member and mastering engineer at The Exchange, London)
Recorded by Eimmur Hákonarson, Kjartan Sveinsson, Mads Christian Brauer
Mixed by Birgir Jón Birgisson

DMM reissue of Amiina's Kurr, featuring the bonus track: "Hilli (At The Top Of The World)", the last ever recording of the legendary songwriter and producer Lee Hazlewood. Originally released in June 2007, this is the first ever vinyl issue of the album and comes in Deluxe 200g vinyl.
Track Listing:
01. Sogg
02. Rugla
03. Glmur
04. Seoul
05. Lpna
06. Hilli
07. Sexfaldur
08. Kolapot
09. Saga
10. Lri
11. Blfeldur
12. Boga
13. Hilli (At the Top of the World) featuring Lee Hazlewood
Click here to listen to samples on AllMusic.com ♫