100 Deluxe Antistatic Inner Sleeves for Vinyl LP Records Polylined Paper High Density Polyethylene PE 12"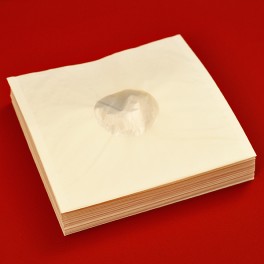 Maximize

Display all pictures
100 Deluxe 12" Inner Sleeves made of special non-degradable 70 g/m² Heavy Paper and Polylined with Antistatic 18 µ soft High Density Polyethylene.
These storage and protection inner sleeves for 12" Vinyl records are perfectly sized at 305 x 309 mm and 15g each, designed and manufactured to the highest quality standards. Guaranteed to minimize static electricity build up keeping dust away and to keep your records scratch free during insert and removal manipulation.
We believe that paper-only inner sleeves are too abrasive and will damage your records over time, but also the ones that only use a thin plastic film are too fragile and do not offer enough resistance in case of any manipulation accidents or if there is some imperfection on the inside of you record cover.
Only a combination of both these approaches using the best of each of them, with the superior resistance of high quality non-degradable paper that leaves no residues, and high quality Polyethylene plastic inside with its antistatic and soft touch properties, represent the best solution for the storage, handling and protection of your vinyl records.
Every LP deserves one of these high quality inner sleeves!
100 units pack