Neil Young & Crazy Horse Psychedelic Pill 180 Gram Vinyl 3LP Bernie Grundman All Analog Pallas EU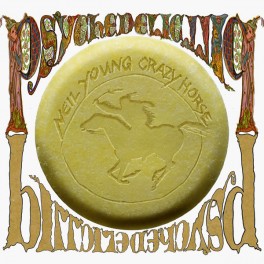 Maximize

Display all pictures
Artist:
Neil Young
Title:
Psychedelic Pill
Catalog Number:
9362-49486-0
Label:
Reprise Records
Barcode:
093624948605
Original release year:
2012
Number of discs:
3
Revolutions per minute:
33⅓ rpm
Disc size:
12"
Vinyl Weight Grade:
180gr
Extras:
Bonus Art Vinyl Etching
Total Item Weight:
948gr
Pressing country:
Germany
For Market Release in:
EU
Added to catalog on:
December 14, 2014
Note:
Limited Eligibility for Discounts
First album of original music from Neil Young and Crazy Horse in almost a decade, including more than 85 minutes of music. Psychedelic Pill pokes down pathways that have been hinted at before in this teaming, but never fully explored. New textures emerge in the music, new landscapes in the lyrics. In many ways, Psychedelic Pill rounds out an array of probing, prominently autobiographical works.
Rated 9/10 Music and 11/10 Sound by Michael Fremer (Analog Planet)
3LP 180 Gram Audiophile Vinyl
100% Analog recording, mixing, and mastering!
Cut by Chris Bellman at Bernie Grundman Studios
Pressed at Pallas in Germany
Triple-pocket Gatefold Cover
Booklet with full lyrics included
Side F decorated with etched artwork
Young and Crazy Horse Return to Epic-Length Rock on Massive Triple Album. Guitar Aficionados, Look No Further: Canadian Legend and Garage-Rock Backing Band Delve Into Serious Jams. Unbridled, Untamed, Unmitigated: Psychedelic Pill All About the Grooves, Rhythms, Hooks, Electricity, and Transcendent Feelings of Rock Music.

Neil Young and Crazy Horse haven't sounded quite like this since 1990's Ragged Glory. Expanding upon the parameters set on this year's magnificent Americana covers album, the legendary Canadian artist and the world's most famous garage-rock backing band return with their first album of original music since 2003's Greendale. But whereas the latter was political in nature, Psychedelic Pill is all about the grooves, rhythms, hooks, electricity, and transcendent feelings that occur when rock music works inside your mind, body, and spirit.

Fans that have been waiting for Young to unleash on the guitar, and set about to jamming as he's been doing far back as 1967's Everybody Knows This Is Nowhere will find plenty to love. Yep, this is Young and Co. unbridled, untamed, unmitigated. The opening tune, "Driftin' Back," clocks in at more than 27 minutes. The aptly titled "Walk Like a Giant" logs more than 16 minutes.

Several songs on the album were road-tested by Young and the Horse on the road, and constitute a main part of the group's fall 2012 tour. Other tunes, such as "Born In Ontario," emerged during Young's solo jaunt during 2011. No matter their genesis, every track lingers with supreme emotion and driving, hypnotic, huge sound. Cut by Chris Bellman at Bernie Grundman Studios, and pressed on dead-quiet 180g LP at Pallas, this 3LP set is an audiophile's dream and analog fanatic's wish come true.


"Neil Young and Crazy Horse's first new studio album of original material in nine years gives a symbolic middle finger to modern convention. It is a stubborn and curmudgeonly statement in no hurry to go anywhere, and feels nary an obligation to apologize for its imperfections. It is the unmistakable sound of an artist doing things on his own terms and caring not an iota if he doesn't make everyone happy…It is alternatively indulgent and lean, nostalgic and contemporary, humorous and serious, unscripted and planned, frustrating and engaging, simple and complex…Approached on its own terms, Psychedelic Pill is also another master stroke from an icon who, nearing 67 years old, could sleepwalk through the remainder of his career rather than continue to take bold risks and potentially antagonize—even alienate." - Bob Gendron, TONEAudio

"..The pill, really, is a metaphor for flashbacks. "Driftin' Back", in particular, is concerned with what may be the substance of Young's forthcoming "Waging Heavy Peace", and the writing of that autobiography. It begins with a brilliant trick – which I won't spoil just yet – and soon locks into a languorous and beautiful series of solos, erratically punctuated by random Young pensées on the subjects of MP3s, hip-hop haircuts, Picasso wallpaper and so on. It's not related to the "Horse Back" jam, but it has that same deep-pile pleasure. If you believe, not unreasonably, that Young simply playing the shit out of an electric guitar is about as good as music gets, I think you'll like it..." - John Mulvey, Uncut UK

"This sublimely recorded AAA production produced the opposite effect. I sat through all five sides in one sitting, volume cranked to almost stupid levels and there before me was Neil, his voice so transparent, so believably there. Behind him was Ralph Molina, each beat played with meaning, and just in front of him was bassist Billy Talbot hitting depth charged notes, each of which had clearly defined string transients and textural and harmonic details, making each note an event. To either side were Neil's and Frank Sampedro's gloriously gnarly three-dimensionally placed guitars. Connecting all of the parts was a sensuous wash of three-dimensional reverberant energy." - Michael Fremer, Analog Planet, 9/10 Music, 11/10 Sound


Track Listing:

LP 1

Side A
1. Driftin' Back (Part 1)

Side B
2. Driftin' Back (Part 2)
3. Psychelic Pill

LP 2

Side C
1. Psychedelic Pill (NY Mix)
2. Ramada Inn

Side D
3. Born In Ontario
4. Twisted Road
5. She's Always Dancing
6. For the Love of Man

LP 3
Side E
1. Walk Like A Giant

Side F - Etched Art (no music)
Click here to listen to samples on AllMusic.com ♫