Art Taylor Taylor's Wailers LP 180 Gram Vinyl Prestige Mono Analogue Productions QRP USA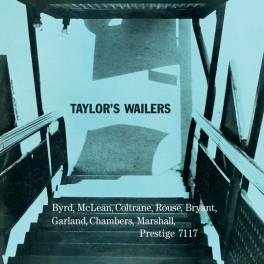 Maximize
Ultimate audiophile Prestige reissues from Analogue Productions. Some of the most collectible, rarest and best sounding Rudy Van Gelder recordings ever made. All cut from the Analog Original Master Tapes by Kevin Gray. Pressed on 180 gram vinyl at state-of-the-art plant Quality Record Pressings and plated by Gary Salstrom. Tip-on covers on thick cardboard stock.
Limited Edition
Analogue Productions Prestige Mono Series
180 Gram Audiophile Vinyl
Mastered by Kevin Gray at Cohearent Audio
Cut from Original Analog Mono Master Tapes
Plated by Gary Salstrom
Pressed at Quality Record Pressings (QRP USA)
Deluxe high-gloss tip-on album cover
"Analogue Productions has continued to push its own already high bar higher still. Its Quality Record Pressings plant is delivering the best vinyl discs to be found, its jackets and cover reproduction quality have hit new levels, and it continues to have the best in the biz - such as Kevin Gray for this series (25 mono LPs from the Prestige label's exceptional late-50s run) cut lacquers from original analog master tapes. ... the sound has a great sense of 'jump' or energy, and it's warmly textured yet precise and well detailed, with nice body. Coltrane's sax was very nicely recorded, plus this was when he was really coming into his own as a player." — Wayne Garcia, The Absolute Sound, December 2015
In 1956 drummer Art Taylor formed a group called Taylor's Wailers. Donald Byrd and Charlie Rouse were members of the working group that debuted at The Pad, a Greenwich Village nightclub on Sheridan Square booked by Bob Reisner, the man who had run the legendary Open Door Sessions. In 1957 Taylor recorded the Wailers for Prestige, adding the alto saxophone of Jackie McLean to the front line. Two of the highlights are the Thelonious Monk compositions, "Well, You Needn't" and "Off Minor," with arrangements by Thelonious himself. One track, "C.T.A.," by Jimmy Heath, is from another session featuring John Coltrane backed by Red Garland, Paul Chambers, and Taylor, a potent Prestige studio combination in those days. There have been many distinguished drummer-leaders in jazz. One expects their groups to be rhythmically exciting. Taylor's Wailers are no exception to this swinging heritage.
Musicians:
Art Taylor - drums
Donald Byrd - trumpet
Jackie McLean - alto saxophone
Charlie Rouse - tenor saxophone
Ray Bryant - piano
Wendell Marshall - bass
John Coltrane - tenor saxophone
Red Garland - piano
Paul Chambers - bass

Track Listing:
1. Batland
2. C.T.A.
3. Exhibit A
4. Cubano Chant
5. Off Minor
6. Well, You Needn't
Click here to listen to samples on YouTube.com ♫