Steely Dan Pretzel Logic 2LP 45rpm 200 Gram Clarity Vinyl Analogue Productions UHQR Box QRP USA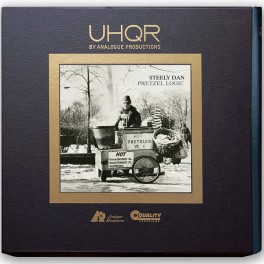 Maximize

Display all pictures
Led by Walter Becker and Donald Fagen, Steely Dan released an extraordinary run of seven sophisticated albums on ABC and MCA Records from 1972 to 1980. Filled with topline musicianship, clever and subversive wordplay, ironic humor, genius arrangements, and several Top 40 pop hits, their records were stylistically diverse, melding their love of jazz with rock, blues, and impeccable pop songcraft.
Numbered Limited Edition (20.000 units)
2LP 200 Gram Clarity Vinyl
Cut at 45rpm for ultimate sound quality
Ultra High Quality Record - UHQR
Pressed at QRP on a manual Finebilt press
All Analog Cut by Bernie Grundman
Cut from Original Master Tapes
Slip-Case Deluxe Box Set
Pretzel Logic — Steely Dan's gold-selling third studio album now on UHQR!

Includes the smash hit "Rikki Don't Lose That Number". Definitive reissue Ultra High Quality Record, the pinnacle of high-quality vinyl!

45 RPM LP release limited to 20,000 numbered copies. Mastered directly from the original master tape by Bernie Grundman

Pressed at Quality Record Pressings using 200-gram Clarity Vinyl®

Purest possible pressing and most visually stunning presentation and packaging! Tip-on old style gatefold double pocket jackets with film lamination by Stoughton Printing.

"While Steely Dan's Pretzel Logic UHQR may not share the full-on Wow factors that its predecessors Countdown to Ecstasy and Can't Buy a Thrill do (each in their own respective ways, of course), that doesn't discount this 2LP set's value when it comes to overall worthiness or what you'll get out of repeat listens — because the more you hear it, the more you get into it. If Pretzel Logic is your personal go-to Steely Dan album, this UHQR edition is absolutely for you. If you want to test your jazz-lineage chops and get further inside the music to hear how SD are literally transitioning their studio acumen right before your very ears into a signature style that wound up blooming in full force on their subsequent albums, then this UHQR edition is definitely for you too. ... Logic stands tall in all its 200g 45rpm 2LP clear-vinyl glory, just like many a great record on the phonograph should." — Music = 8/11; Sound = 9/11 — Mike Mettler, AnalogPlanet.com. To read Mettler's full review, click here

Steely Dan's gold-selling third studio album Pretzel Logic, charted at No. 8 on the Billboard 200 and restored the group's radio presence with the single "Rikki Don't Lose That Number," which became the biggest pop hit of their career and peaked at No. 4 on the Billboard Hot 100. The 1974 album was produced by Gary Katz and was written primarily by Walter Becker (bass) and bandleader Donald Fagen (vocals, keyboards). The album marked the beginning of Becker and Fagen's roles as Steely Dan's principal members.

They enlisted prominent Los Angeles-based studio musicians to record Pretzel Logic, but used them only for occasional overdubs, except for drums, where founding drummer Jim Hodder was reduced to a backing singer, replaced by Jim Gordon and Jeff Porcaro on the drum kit for all of the songs on the album. Steely Dan's Jeff "Skunk" Baxter played pedal steel guitar and hand drums.

Pretzel Logic has shorter songs and fewer instrumental jams than the group's 1973 album Countdown to Ecstasy. Steely Dan considered it the band's attempt at complete musical statements within the three-minute pop-song format. The album's music is characterized by harmonies, counter-melodies, and bop phrasing. It also relies often on straightforward pop influences. The syncopated piano line that opens "Rikki Don't Lose That Number" develops into a pop melody, and the title track transitions from a blues song to a jazzy chorus.

Other standout tracks include "Any Major Dude Will Tell You," a reflective ballad with lush harmonies, and "Parker's Band," a playful ode to the jazz great Charlie Parker.

Lyrically, the album explores themes of nostalgia, lost love, and the struggles of the creative process. In "Barrytown," the band reflects on their early days as struggling musicians, while in "Through with Buzz," they offer a biting critique of the music industry and the pressure to conform to commercial expectations.

One of the defining characteristics of Pretzel Logic is its use of unusual chord progressions and unexpected musical twists and turns. The band's intricate arrangements and skilled musicianship are on full display throughout the album.

Rolling Stone praised the album, calling Steely Dan the "most improbable hit-singles band to emerge in ages."

"When the band doesn't undulate to samba rhythms (as it did on 'Do It Again,' its first Top Ten single), it pushes itself to a full gallop (as it did on 'Reelin' in the Years,' its second). These two rhythmic preferences persist and sometimes intermingle, as on 'Rikki Don't Lose That Number,' which jumps in mid-chorus from 'Hernando's Hideaway' into 'Honky Tonk Women.' Great transition." — the review said.

AllMusic gave the album 5 stars, with reviewer Stephen Thomas Erlewine noting that "instead of relying on easy hooks, Walter Becker and Donald Fagen assembled their most complex and cynical set of songs to date." Dense with harmonics, countermelodies, and bop phrasing, Pretzel Logic is vibrant with unpredictable musical juxtapositions and snide, but very funny, wordplay.

The album's cover photo featuring a New York pretzel vendor was taken by Raeanne Rubenstein, a photographer of musicians and Hollywood celebrities. She shot the photo on the west side of Fifth Avenue and 79th Street, just above the 79th Street Transverse (the road through Central Park), at the park entrance called "Miners' Gate."

After a brief battle with esophageal cancer, Walter Becker died on September 3, 2017 at the age of 67. Steely Dan has sold more than 40 million albums worldwide and were inducted into the Rock and Roll Hall of Fame in March 2001. VH1 ranked Steely Dan at No. 82 on their list of the 100 Greatest Musical Artists of All Time. Rolling Stone ranked them No. 15 on its list of the 20 Greatest Duos of All Time.

This stereo UHQR reissue will be limited to 20,000 copies, with gold foil individually numbered jackets, housed in a premium slipcase with a wooden dowel spine.

Overall, Pretzel Logic is a standout album in Steely Dan's discography. The album's blend of catchy hooks, complex arrangements, and thoughtful lyrics has made it a favorite among fans of classic rock and pop music.
Musicians:
Bass – Chuck Rainey, Tim Schmit, Wilton Felder
Bass, Guitar – Walter Becker
Drums – Jeff Porcaro, Jim Gordon, Jim Hodder
Guitar – Ben Benay, Denny Diaz, Jeff Baxter
Guitar, Banjo – Dean Parks
Keyboards – David Paich, Michael Omartian
Keyboards, Percussion – Victor Feldman
Orchestrated By – Jimmie Haskell
Producer – Gary Katz
Saxophone – Ernie Watts, Jerome Richardson, Plas Johnson
Trumpet – Ollie Mitchell
Vocals, Keyboards – Donald Fagen
Track Listing:
01. Rikki Don't Lose That Number
02. Night By Night
03. Any Major Dude Will Tell You
04. Barrytown
05. East St. Louis Toodle-Oo
06. Parker's Band
07. Through With Buzz
08. Pretzel Logic
09. With A Gun
10. Charlie Freak
11. Monkey In Your Soul
Click here to listen to samples on YouTube.com ♫