The Smashing Pumpkins Mellon Collie And The Infinite Sadness 4LP 180 Gram Vinyl Box Virgin Records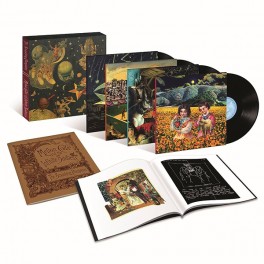 Maximize
Artist:
The Smashing Pumpkins
Title:
Mellon Collie And The Infinite...
Catalog Number:
5099997855316
Label:
Virgin
Reissued by:
Virgin
Barcode:
5099997855316
Original release year:
1995
Reissue year:
2022
Number of discs:
4
Revolutions per minute:
33⅓ rpm
Disc size:
12"
Vinyl Weight Grade:
180gr
Limited Edition:
Yes
Total Item Weight:
2250gr
Pressing country:
EU
For Market Release in:
USA & Europe
Added to catalog on:
September 2, 2023
Note:
Never eligible for any further discounts
Vinyl Gourmet Club:
No
The Smashing Pumpkins Mellon Collie And The Infinite Sadness 4LP 180 Gram Vinyl reissue with updated art on the box and on the inner sleeves. Includes a 36-page full-color art book featuring band member notes, photos, and credits, and a 28-page lyric book with illustrations. Current 2023 reissue of the 4 LP Boxset, a must-have masterpiece for the ages.
Remastered from the Original Analog Masters and Pressed Across 8 Sides for Optimum Sound Quality; Housed in a 12" x 12" Rigid Slipcase with 2 Books Containing Personal Notes, New Collage Artwork, Lyrics & More!

Originally released in October of 1995, Mellon Collie and the Infinite Sadness debuted at No. 1 on the Billboard 200 chart and went on to a nine time platinum certification by the RIAA. It yielded major hits like "Bullet With Butterfly Wings," the band's unlikely first Top 40 hit, the exquisite "1979" and the epic "Tonight, Tonight" as well as a thoroughly inspired series of videos. Produced by Billy Corgan, Flood and Alan Moulder, the album would also earn a Grammy Award (1996 Best Hard Rock Performance for "Bullet With Butterfly Wings") as well as seven nominations. Beyond the more obvious hits, though, Mellon Collie is a song cycle of unusual depth and considerable range. It is a collection of stunningly beautiful moments when everything is lined up, a moment in time that's still here to be treasured.

EMI is doing just that by reissuing the album here across four 180g vinyl LPs, remastered from the original analog masters for optimum sound quality for the first time and housed in a 12" x 12" rigid slipcase with two books containing personal notes, new collage artwork, lyrics and more. This reissue project was personally overseen by founding member Billy Corgan.

"What strikes me now about Mellon Collie is that we were coming off of making Siamese Dream with Butch Vig which was a very idealized statement," Corgan tells writer David Wild in the liner notes. "Siamese Dream was very successful and very much at the forefront of how records are made now with a strong perfectionist streak. Yet coming off of that success, we went completely in the opposite direction working with Flood and Alan Moulder. We headed into a much darker, funkier and more visceral terrain. Revisiting Mellon Collie for this edition, that's what struck me, that we made this kind of dramatic 'about face"'at a time when most people would have made an even more expensive idealized statement. We went deep, and we went for something expansive sounding, not just expensive sounding."

The decision to work with the respected British producer and audio engineer Flood aka Mark Ellis and his longtime collaborator Alan Moulder was a significant one for the Pumpkins. The group had admired Flood's work with artists from U2 to Nine Inch Nails and Depeche Mode. "I loved Butch Vig very much then, and I still do," Corgan explains. "The decision to switch things up was based on the sense that there was some whole other thing that could be gotten to by us, but that a more radical approach was going to be necessary to get to it. We knew we wanted to continue our evolving consciousness, but we were not quite sure how to do it."
Track Listing:
Dawn To Dusk
LP1
Mellon Collie and the Infinite Sadness
Tonight, Tonight
Jellybelly
Zero
Here Is No Why
Bullet with Butterfly Wings
To Forgive

LP2
An Ode to No One
Love
Cupid de Locke
Galapogos
Muzzle
Porcelina of the Vast Oceans
Take Me Down
Twilight To Starlight

LP3
Where the Boys Fear to Tread
Bodies
Thirty-Three
In the Arms of Sleep
1979
Tales of a Scorched Earth
Thru the Eyes of Ruby

LP4
Stumbleine
X.Y.U.
We Only Come Out at Night
Beautiful
Lily (My One and Only)
By Starlight
Farewell and Goodnight
Click here to listen to samples on YouTube.com ♫