The Jazz Messengers At The Cafe Bohemia Volume 2 2LP 45rpm 180g Vinyl Music Matters Jazz Mono RTI USA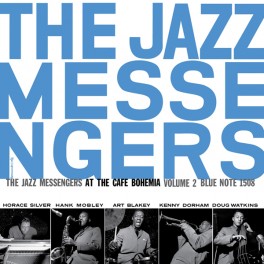 Maximize

Display all pictures
At the Cafe Bohemia Vol.2 is a 1955 live album The Jazz Messengers featuring the original incarnation of Art Blakey's career-spanning band, and is the second of two volumes recorded on November 23, 1955 at Café Bohemia in Greenwich Village in New York. Given full audiophile tratment this definitive reissue was cut from Original Analog Mono Master Tapes to 45rpm double LP by Kevin Gray!

Limited Edition
Only 1500 non-numbered Units available Worldwide
Cut from the Original Rudy Van Gelder Blue Note Master Tapes (mono)
Remastered by Kevin Gray and Steve Hoffman at AcousTech
Cut by Kevin Gray at Cohearent Audio
Double LP Cut at 45rpm for ultimate dynamics
180 Gram Virgin Vinyl pressed at RTI USA
Ultra-Durable Extra Thick Album Cover
Gatefold Album with Session Photos in stunning High Resolution
There are rare times on particularly special live recordings where one can truly feel the excitement of brilliant musicians creating new music. It is as if the musicians are not only one with the audience in the club but with those lucky enough to experience the music years later on the record. At The Café Bohemia, Vol. 2, which features the original version of the Jazz Messengers, is one of those times.
Not only is the sound quality superb, but Kenny Dorham, Hank Mobley, Horace Silver, Doug Watkins and Art Blakey are very inspired by the music, the audience, and the thrill of playing with each other. Whether jamming the blues on "Sportin' Crowd," digging deep into their own souls on "Like Someone In Love," or creating intense and passionate Afro-Cuban jazz on Mobley's "Avila and Tequila," this is music for the ages. Fans of hard bop, the Blue Note label, and straight ahead jazz in general will simply have to own this.
Musicians:

Kenny Dorham, trumpet
Hank Mobley, tenor sax
Horace Silver, piano
Doug Watkins, bass
Art Blakey, drums

Track Listing:

1. Sportin' Crowd
2. Like Someone In Love
3. Yesterdays
4. Avila And Tequila
5. I Waited For You

Click here to listen to samples on AllMusic.com ♫