Cookin' With The Miles Davis Quintet LP 180 Gram Vinyl Prestige Mono Analogue Productions QRP USA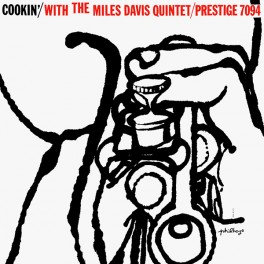 Maximize
Ultimate audiophile Prestige reissues from Analogue Productions. Some of the most collectible, rarest and best sounding Rudy Van Gelder recordings ever made. All cut from the Analog Original Master Tapes by Kevin Gray. Pressed on 180 gram vinyl at state-of-the-art plant Quality Record Pressings and plated by Gary Salstrom. Deep groove label pressings, tip-on covers on thick cardboard stock.
Limited Edition
Analogue Productions Prestige Mono Series
180 Gram Audiophile Vinyl
Mastered by Kevin Gray at Cohearent Audio
Cut from Original Analog Mono Master Tapes
Plated by Gary Salstrom
Pressed at Quality Record Pressings (QRP USA)
Deluxe high-gloss tip-on album cover
Of Miles Davis's many bands, none was more influential and popular than the quintet with John Coltrane, Red Garland, Paul Chambers, and Philly Joe Jones. Davis's muted ballads and medium-tempo standards endeared him to the public. The horns' searing exposition of classics captivated musicians. The searching, restless improvisations of Coltrane intrigued listeners who had a taste for adventure. The flawless rhythm section became a model for bands everywhere.
Cookin' With the Miles Davis Quintet is the first classic album of four total that emerged from two marathon and fruitful sessions recorded in 1956 (the other three discs released in Cookin's wake were Workin', Relaxin' and Steamin'). All the albums were recorded live in the studio, as Davis sought to capture, with Rudy Van Gelder's expert engineering, the sense of a club show á la the Café Bohemia in New York, with his new quintet, featuring tenor saxophonist John Coltrane. In Miles's own words, he says he called this album Cookin' because "that's what we did—came in and cooked." What's particularly significant about this Davis album is his first recording of what became a classic tune for him: "My Funny Valentine." Hot playing is also reserved for the uptempo number "Tune Up," which revs with the zoom of both the leader and 'Trane.
Musicians:

Miles Davis, trumpet
John Coltrane, tenor saxophone
Red Garland, piano
Paul Chambers, bass
"Philly" Joe Jones, drums

Track Listing:
01. My Funny Valentine
02. Blues By Five
03. Airegin
04. Tune Up
05. When Lights Are Low
Click here to listen to samples on YouTube.com ♫