Elmo Hope Informal Jazz LP 180 Gram Vinyl Kevin Gray Prestige Mono Analogue Productions QRP USA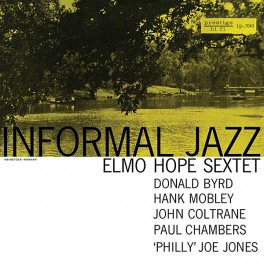 Maximize
Ultimate audiophile Prestige reissues from Analogue Productions. Some of the most collectible, rarest and best sounding Rudy Van Gelder recordings ever made. All cut from the Analog Original Master Tapes by Kevin Gray. Pressed on 180 gram vinyl at state-of-the-art plant Quality Record Pressings and plated by Gary Salstrom. Deep groove label pressings, tip-on covers on thick cardboard stock.
Limited Edition
Analogue Productions Prestige Mono Series
180 Grams Audiophile Vinyl
Mastered by Kevin Gray at Cohearent Audio
Cut from Original Analog Mono Master Tapes
Plated by Gary Salstrom
Pressed at Quality Record Pressings (QRP USA)
Deluxe high-gloss tip-on album cover
Overshadowed throughout his life by his friends Bud Powell and Thelonious Monk, Elmo Hope was a talented pianist and composer in his own right. He recorded in New York as a band leader (starting in 1953), and with greats Sonny Rollins, Lou Donaldson, Clifford Brown and Jackie McLean. But the loss of his cabaret card due to drug use made it difficult for him to make a living in New York. After touring with Chet Baker in 1957, Hope relocated to Los Angeles. He performed with Lionel Hampton in 1959, recorded with Harold Land and Curtis Counce, and returned to New York in 1961. A short prison sentence did little to help his drug problem; he died in May 1967.

Although the album is titled Informal Jazz, reality dictates that a good deal of thought and care went into the recording session. The dynamic drum and bass team of Philly Joe Jones and Paul Chambers is "hardly the kind of rhythm section playing heard at a jam session, except possibly in heaven," All Music Guide notes. And Hope's solo spots are the best part of the record — "It is a stretch to imagine an 'informal' recording session where even material as complicated as this is played."

Lastly, some of the most well-known and influential horn artists of the time make their presence known — tenor sax greats John Coltrane and Hank Mobley, as well as trumpeter Donald Byrd.
Musicians:
Elmo Hope, piano
Philly Joe Jones, drums
Paul Chambers, bass
John Coltrane, tenor sax
Donald Byrd, trumpet
Hank Mobley, tenor sax

Track Listing:
1. Weeja
2. Polka Dots and Moonbeams
3. On It
4. Avalon
Click here to listen to samples on YouTube.com ♫