John Coltrane Standard Coltrane LP 180g Vinyl Prestige Stereo Kevin Gray Analogue Productions QRP USA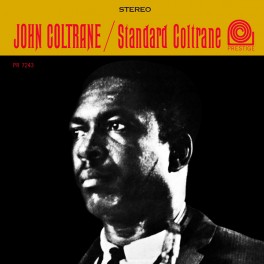 Maximize
Ultimate audiophile Prestige reissues from Analogue Productions. Some of the most collectible, rarest and best sounding Rudy Van Gelder recordings ever made. All cut from the Analog Original Master Tapes by Kevin Gray. Pressed on 180 gram vinyl at state-of-the-art plant Quality Record Pressings and plated by Gary Salstrom, with tip-on covers on thick cardboard stock.
Limited Edition
Analogue Productions Prestige Stereo Series
180 Gram Audiophile Vinyl
Mastered by Kevin Gray at Cohearent Audio
Cut from Original Analog Master Tapes
Plated by Gary Salstrom
Pressed at Quality Record Pressings (QRP USA)
Deluxe high-gloss tip-on album cover
Analogue Productions uses the original tapes and works with only the best mastering studios. Albums are plated and pressed at the world's best pressing plant on virgin vinyl with unmatched quality, as AP uses meticulous test pressing evaluation and quality control. Analogue Productions uses the highest-quality jackets and rice paper inner sleeves and issues Limited Edition albums, meaning less than 1,000 records per stamper, released in limited quantities.
John Coltrane brought a new sound and style to jazz, and he applied it in his own unique way to the standard material of the storehouse of American music gathered from Broadway, Hollywood and Tin Pan Alley.

This appropriately titled collection from John Coltrane was originally recorded in 1958 with Wilbur Harden (trumpet/flueglhorn), Red Garland (piano), Paul Chambers (bass) and Jimmy Cobb (drums) and subsequently issued on Prestige in 1962. 'Trane and company take four standards of American music lore from such sources as Broadway, Hollywood and Tin Pan Alley, and transform them into unique and energetic work outs, all colored with Coltrane's trademark tenor-sax tone and inimitable style.

In addition to an extended 10-minute version of Bronislau Kaper's "Invitation," also included here are readings of Henry Nemo's "Don't Take Your Love From Me," Fred Ahlert's "I'll Get By (As Long As I Have You)" and Richard Rodger's "Spring Is Here." Standard Coltrane is also of great historical significance as it was recorded shortly before Coltrane's groundbreaking modal work with Miles Davis on Kind of Blue, and of course, released after it changed jazz forever.

"The title could not have been more accurate. By 1962, Coltrane's leadership role was undeniable; he was a standard-bearer of musical commitment, and intense, bold exploration. As well, all four tunes on the album were truly 'standards': 32-bar tunes originally crafted for Broadway or Hollywood projects, adopted by jazz instrumentalists to interpret and explore. There's another meaning to be gleaned from the album's title. In 1958, when Coltrane recorded the tracks, he often favored melodies that had attained popularity during his teen years—familiar and unfamiliar alike—all in a search to find new structures and fresh inspiration. This indeed was standard Coltrane—in '58, and well into the '60s." — All Music Guide
Musicians:
John Coltrane - tenor sax
Wilbur Hardin - trumpet
Red Garland - piano
Paul Chambers - bass
Jimmy Cobb - drums

Track Listing:
01. Don't Take Your Love From Me
02. I'll Get By
03. Spring Is Here
04. Invitation
Click here to listen to samples on YouTube.com ♫