Freddie Hubbard Breaking Point LP 180 Gram Vinyl Kevin Gray Blue Note Tone Poet Series RTI USA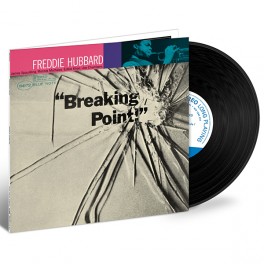 Maximize

Display all pictures
Blue Note Records Tone Poet Audiophile Vinyl Reissues. Joe Harley co-founder of the acclaimed Music Matters Jazz audiophile vinyl label is the producer of this new series, handpicked titles mastered from the original master tapes on 180g Vinyl in deluxe covers. Mastering is done by Kevin Gray at Cohearent Audio and vinyl is pressed at Record Technology Incorporated, RTI in the USA.
Tone Poet Audiophile Vinyl Reissue Series
All Analog Mastering
Cut by Kevin Gray at Cohearent Audio
Mastered From Original Analog Master Tapes
Reissue supervised by Joe Harley (Music Matters)
180 Gram Audiophile Vinyl Pressed at RTI USA
Deluxe Gatefold Cover
The Blue Note Tone Poet Series was born out of Blue Note President Don Was' admiration for the exceptional audiophile Blue Note LP reissues presented by Music Matters. Was brought Joe Harley (from Music Matters), a.k.a. the "Tone Poet," on board to curate and supervise a series of reissues from the Blue Note family of labels.

Extreme attention to detail has been paid to getting these right in every conceivable way, from the jacket graphics and printing quality to superior LP mastering (direct from the master tapes) by Kevin Gray to superb 180-gram audiophile LP pressings by Record Technology Inc. Every aspect of these Blue Note/Tone Poet releases is done to the highest possible standard. It means that you will never find a superior version. This is it!

"Per Don Was's direction, everything about this reissue series closely mirrors the Music Matters releases that so impressed Was..." - Michael Fremer, Analogplanet
Despite having performed on several of the most revolutionary avant-garde jazz records of the 1960s, including Ornette Coleman's Free Jazz and John Coltrane's Ascension, Freddie Hubbard's own albums tended to hew closer to the mainstream. Perhaps no other single album captures the trumpeter's awe-inspiring breadth of ability and versatility than Breaking Point!, which was recorded in May 1964 shortly after Hubbard had departed Art Blakey's Jazz Messengers in order to form his own band.

On this six-song set featuring five of Hubbard's original compositions, his new quintet — with James Spaulding on alto saxophone and flute, Ronnie Mathews on piano, Eddie Khan on bass, and Joe Chambers on drums — moves assuredly across vast stylistic terrain. On the stunning title track alone the band shifts from free-form exploration into a playful Calypso and back with ease. The rest of the program traverses modal jazz ("Far Away"), the blues ("Blue Frenzy"), and stunningly beautiful balladry (Chambers' "Mirrors") to create one of the more remarkable albums in Hubbard's formidable Blue Note oeuvre.
Musicians:
Freddie Hubbard - trumpet
James Spaulding - alto sax, flute
Ronnie Matthews - piano
Eddie Khan - bass
Joe Chambers - drums
Track Listing:
1. Breaking Point
2. Far Away
3. Blue Frenzy
4. D Minor Mint
5. Mirrors
Click here to listen to samples on YouTube.com ♫