Gerald Wilson Big Band Moment Of Truth LP 180g Vinyl Kevin Gray Pacific Blue Note Tone Poet RTI USA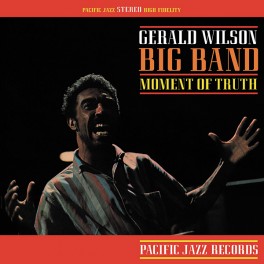 Maximize
Blue Note Records Tone Poet Audiophile Vinyl Reissues. Joe Harley co-founder of the acclaimed Music Matters Jazz audiophile vinyl label is the producer of this new series, handpicked titles mastered from the original master tapes on 180g Vinyl in deluxe covers. Mastering is done by Kevin Gray at Cohearent Audio and vinyl is pressed at Record Technology Incorporated, RTI in the USA.
Tone Poet Audiophile Vinyl Reissue Series
All Analog Mastering
Cut by Kevin Gray at Cohearent Audio
Mastered From Original Master Tapes
Reissue supervised by Joe Harley
180 Gram Vinyl Pressed at RTI USA
Deluxe Cover
The Blue Note Tone Poet Series was born out of Blue Note President Don Was' admiration for the exceptional audiophile Blue Note LP reissues presented by Music Matters. Was brought Joe Harley (from Music Matters), a.k.a. the "Tone Poet," on board to curate and supervise a series of reissues from the Blue Note family of labels.

Extreme attention to detail has been paid to getting these right in every conceivable way, from the jacket graphics and printing quality to superior LP mastering (direct from the master tapes) by Kevin Gray to superb 180-gram audiophile LP pressings by Record Technology Inc. Every aspect of these Blue Note/Tone Poet releases is done to the highest possible standard. It means that you will never find a superior version. This is it!

"Per Don Was's direction, everything about this reissue series closely mirrors the Music Matters releases that so impressed Was..." - Michael Fremer, Analogplanet
"The LPs are mastered directly from the original analog master tapes by Kevin at his incredible facility called Cohearent Mastering. We go about it in the exact same way that we did for so many years for the Music Matters Blue Note reissues. We do not roll off the low end, boost the top or do any limiting of any kind. We allow the full glory of the original Blue Note masters to come though unimpeded! Short of having an actual time machine, this is as close as you can get to going back and being a fly on the wall for an original Blue Note recording session." – Joe Harley
Born in Mississippi, Gerald Wilson spent formative years in Detroit before launching a celebrated career as a trumpeter, composer, arranger, and bandleader. After moving to Los Angeles, Wilson signed with Pacific Jazz and in 1961 began a decade-long run of spectacular recordings including 1962's Moment of Truth. The action-packed nine-song set (including seven originals) is a showcase for Wilson's many strengths as he uses the vibrant colors his dynamic big band to paint a variety of musical scenes including the swaggering blues of the title track, the irrepressible Latin groove of "Viva Tirado," a fleet-footed version of "Milestones" by Miles Davis, and the evocative textures of "Teri" featuring Joe Pass on guitar. Other notable members of the ensemble include trumpeter Carmell Jones, trombonist Lou Blackburn, alto saxophonist Bud Shank, tenor saxophonist Harold Land, pianist Jack Wilson, and drummer Mel Lewis.
Musicians:
Carmell Jones - trumpet
Jules Chaikin - trumpet
John Audino - trumpet
Fred Hill - trumpet
Al Porcino - trumpet (Side 2)
Bob Edmondson - trombone
Lou Blackburn - trombone
Frank Strong - trombone (Side 1)
Bob Knight - trombone (Side 1)
Kenny Shroyer - trombone (Side 2)
Les Robertson - trombone (Side 2)
Teddy Edwards - reeds
Harold Land - reeds
Bud Shank - reeds
Joe Maini - reeds
Don Raffell - reeds (Side 1)
Jack Nimitz - reeds (Side 2)
Joe Pass - guitar
Jack Wilson - piano
Jimmy Bond - bass
Mel Lewis - drums
Modesto Duran - congas ("Viva Tirado", "Latino")
Track Listing:
1. Viva Tirado
2. Moment of Truth
3. Patterns
4. Teri
5. Nancy Jo
6. Milestones
7. Latino
8. Josefina
9. Emerge
Click here to listen to samples on YouTube.com ♫