Esperanza Spalding Radio Music Society 2LP 180g Vinyl 10th Anniversary Edition Craft RTI 2022 USA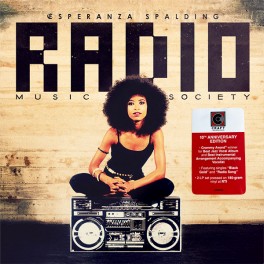 Maximize

Display all pictures
The first jazz artist to win the Grammy Award for Best New Artist, Esperanza Spalding's album Radio Music Society is an ambitious and diverse album with a fusion of Jazz, Pop and Soul, featuring an impressive list of legendary musicians like Joe Lovano and Jack DeJohnette. Uplifting powerful songs like 'Black Gold' and 'Cinnamon Tree' contribute to a great sounding and satisfying album.
Grammy Awards Winner Best New Artist (2011)
Grammy Awards Winner Best Jazz Vocal Album (2012)
The Absolut Sound Rated 4/5 Music and 4/5 Sonics
10th Anniversary Edition
2LP 180 Gram Vinyl
Pressed at RTI, USA
Gatefold Cover
Celebrating the 10th Anniversary of Esperanza Spalding's GRAMMY® Award winning 4th album, Radio Music Society comes this 2-LP 180-gram vinyl. Featuring the singles "Black Gold" and "Radio Song", Radio Music Society earned Spalding her second GRAMMY Award, for Best Jazz Vocal Album, and is a companion to her album Chamber Music Society. The album features guests including Q-Tip, Terri Lyne Carrington, Jack DeJohnette, Joe Lovano, Lionel Loueke, Lalah Hathaway, Gretchen Parlato and more.
It has not taken Esperanza Spalding long to emerge as one of the brightest lights in the musical world. Listeners familiar with her stunning 2008 Heads Up International debut, Esperanza, and her best-selling 2010 release Chamber Music Society, were well aware that the young bassist, vocalist and composer from Portland, Oregon was the real deal, with a unique and style-spanning presence, deeply rooted in jazz yet destined to make her mark far beyond the jazz realm. That judgment was confirmed on February 13, 2011, when Spalding became the first jazz musician to receive the Grammy for Best New Artist. Now, Heads Up International, a division of Concord Music Group, gives us Spalding's latest release, Radio Music Society, her most diverse, ambitious and masterful recital yet. Eleven songs are accompanied by conceptual short films, which further express Esperanza's inspiration and story behind each track. Shot in various locations including New York City; Barcelona, Spain; and Portland, Oregon; all videos will be available to purchasers of Radio Music Society as a digital download or a DVD on the deluxe version.

Radio Music Society is a companion, rather than a sequel, to Spalding's previous disc, which reached No. 1 on the Billboard Contemporary Jazz Chart. "Originally I thought it would be fun to release a double album," she explains, "One disc with an intimate, subtle exploration of chamber works and a second one in which jazz musicians explore song forms and melodies that are formatted more along the lines of what we would categorize as 'pop songs.' Those are the two things that really interest me, and it intrigues me to think about different presentation approaches while writing each kind of song. On the pop song side, I think about listeners who aren't into jazz, but I also think about the people within my musical community who can interpret each idea best."

"Radio Song," the new disc's opening track, both sets the tone and confirms the aptness of Spalding's 'radio music' metaphor. "Everyone has the experience of turning on a car radio," she explains," mindlessly flipping through the dial and suddenly a fragment grabs you and you're totally digging it. I wanted to capture that moment when the music just sinks in. It's about the power of song, and how at the least it can save the day."

Songs about love run a full gamut. "Hold On Me" is a narrative of unrequited love, inspired by people who cling to dreams of relationships that can never be realized. "Let Her," one of Spalding's older compositions, was inspired by "different people I've known who are in miserable situations, then complain when they end." "Cinnamon Tree," written to cheer up a friend, celebrates platonic love, and Spalding's belief that "the love between friends is just as important as romantic love." "Crowned and Kissed," with references to King Arthur and Midas, is about "the unsung royalty in your life, men and women who quietly, every day do the most honorable things, and who deserve to be honored even if they don't end up with castles and thrones." The edgy "Smile Like That" marks the moment a person realizes that his or her partner has developed other interests. "I'm saying, `Okay, I get it, let's not beat around the bush,'" Spalding explains.

Among its many strengths, Radio Music Society is a celebration of the men and women who have helped cultivate Spalding's talent, as well as those who have nurtured her vision and inspired her along the way. "I've had the honor and blessing of working with so many phenomenal jazz musicians over the years," she says. "All my personal heroes who are revered in the jazz world — like Joe Lovano and Terri Lyne Carrington — should be heard by a mainstream audience, because what they manifest in their music is so beautiful, sincere and uplifting."
Track Listing:

LP 1 Side A:
01. Radio Song
02. Cinnamon Tree
03. Crowned & Kissed

LP 1 Side B:
04. Land Of The Free
05. Black Gold (feat. Algebra Blessett & Lionel Loueke)
06. I Can't Help It (feat. Joe Lovano)

LP 2 Side C:
07. Hold On Me
08. Vague Suspicions
09. Endangered Species (feat. Lalah Hathaway)

LP 2 Side D:
10. Let Her
11. City of Roses
12. Smile Like That
Click here to listen to samples on YouTube.com ♫