The Gil Evans Orchestra Out Of The Cool 2LP 45rpm 180g Vinyl Kevin Gray Analogue Productions QRP USA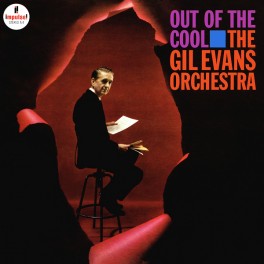 Maximize
Artist:
Gil Evans
Title:
Out Of The Cool
Catalog Number:
Stereo A-4 / AIPJ 4
Label:
Impulse!
Reissued by:
Analogue Productions
Barcode:
0753088000478
Original release year:
1961
Reissue year:
2009
Number of discs:
2
Revolutions per minute:
45 rpm
Disc size:
12"
Vinyl Weight Grade:
180gr
Limited Edition:
Yes
Total Item Weight:
780gr
Pressing country:
USA
For Market Release in:
USA
Added to catalog on:
November 21, 2014
Collection:
Analogue Productions Impulse! Series
Note:
Never eligible for any further discounts
Vinyl Gourmet Club:
No
Out Of The Cool from 1961 is universally acclaimed as Gil Evans' masterpiece, comparable to Duke Ellington in terms of orchestration, and part of the essential jazz for any music lover. After several years recording with Miles Davis on masterpieces like Miles Ahead, Porgy and Bess and Sketches Of Spain, this was his first post-miles record as the title suggests. Listen to La Nevada... and let it immerse you in beauty, style, rythm... jazz to die for!
Rated 11/10 Music and 9/10 Sound by Michael Fremer (Analog Planet)

Rated a 'Best Audiophile Label Recording' by The Absolute Sound
Limited Edition
Mastered by Kevin Gray at AcousTech
Audiophile All Analog cut
2LP 45rpm 180 Gram Vinyl
Pressed at QRP USA
Deluxe Gatefold Cover
The Penguin Guide to Jazz selected this album as part of its suggested "Core Collection", calling it "Evans' masterpiece under his own name and one of the best examples of jazz orchestration since the early Ellington bands"
A groundbreaking jazz recording by the longtime Miles Davis collaborator Gil Evans highlights the latter's supreme and influential skills as a jazz orchestrator. This album is a brilliant example of Evans' ability to make a large orchestra sound like a smaller jazz combo using orchestrations that infuse the larger unit with the immediacy and spontaneity of the smaller. Out Of The Cool features some of Evan's finest compositions, including the famous "La Nevada" as well as a magnificent performance of George Russell's "Sratosphunk." Soloists include Budd Johnson (tenor), Johnny Coles (trumpet), Ray Crawford (guitar), Elvin Jones (drums), Ron Carter (bass) and Jimmy Knepper (trombone). The ensemble is superbly recorded by the legendary Rudy Van Gelder. A must-have for all lovers of jazz.

"Evans, like a sort of jazz-minded Mahler, weaves together sparsely populated chamber-like interludes with dramatic, large-scaled orchestration...The results are lovely, sometimes cerebral jazz meditations, and the soundstage is expansive, with soloists firmly rooted within; the musicians unfurl ribbons of fabulously layered tone colors, and the recording captures the orchestra's terrific dynamic range." - Wayne Garcia, The Absolute Sound

"Out of the Cool doesn't lack for highlights! There's Ray Crawford's sensational sounding guitar work. There's Jimmy Knepper's unbelievable trombone trombone solos and tonal completeness on "Where Flamingoes Fly." Then there's Tony Studd's bass trombone work and incredible sense of air on "Stratusphunk." - Myles B. Astor, Positive Feedback

"'Minimally miked' this ain't but it results in timbral richness and transient clarity as well as a dramatic instrumental presence... I've been asked many times to produce a top 10 or top 100 LPs list and this record would be right near the top both because of how it has influenced jazz (and surely Henry Mancini I'd say) and because it's superbly produced, engineered and especially played. The improvised performances are astonishing every play and the sound is superbly transparent, vivid and dynamic... Kevin Gray's mastering is superb as usual and the glossy gatefold "tip on" jacket cover art is beautifully reproduced... One way or another a copy of this masterpiece belongs in every good record collection (unless you don't like jazz) and given the reality of the day, fifty plus years after it was originally released and five years after the fire, the best available version is Analogue Productions'." - Michael Fremer, Analog Planet (Music 11/10, Sound 9/10)

"...Out of the Cool, recorded in 1962, stands as Evans' grandest achievement, apart from his finest works with Miles Davis fronting the orchestra (Sketches of Spain, Miles Ahead), and it's one of the first of Kassem's Impulse! 45 releases...Van Gelder did his part with the mikes; and Kassem's remasters do theirs with the cutting lathe. Their 45rpm stereo pressing sounds at least as good - in the highs and lows, better - than the original, and that's saying a lot." - Fred Kaplan, Stereophile

This is the Gil Evans Orchestra that made its initial appearance at the Jazz Gallery in New York City toward the end of 1960. After having experimented with many different instrumentational formats, Gil has settled on this one as affording the most flexible outlet for his musical ideas. His taste for developments in all music is evidenced by his choice of material, his selection of personnel and by his compositional style. While some composer-arrangers in the jazz field tend to over-write in proportion to the time they spend and the techniques they learn, Evans seems to be headed in the opposite direction. Always aware of the importance of the improvised solo, his supporting material is never over-bearing.
Musicians:

Ron Carter, Bass
Johnny Coles, Trumpet
Budd Johnson, Soprano Saxophone, Tenor Saxophone
Elvin Jones, Percussion, Drums
Jimmy Knepper, Trombone
Ray Crawford, Guitar
Phil Sunkel, Trumpet
Billy Barber, Tuba
Raymond Beckenstein, Flute, Piccolo, Alto Saxophone
Eddie Caine, Flute, Piccolo, Alto Saxophone
Gil Evans, Piano, Conductor
Keg Johnson, Trombone
Charlie Persip, Percussion, Drums
Tony Studd, Bass Trombone
Bob Tricaric, Flute, Bassoon, Piccolo

Track Listing:

1. La Nevada
2. Where Flamingos Fly
3. Bilbao Song
4. Stratusphunk
5. Sunken Treasure

Click here to listen to samples on YouTube.com ♫